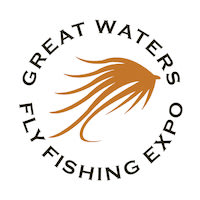 The Great Waters Fly Fishing Expo is the largest fly fishing event in the Midwest. With vendors from the region and across the country including fly shops, guides, top brands, outfitters and non-profits, we offer the newest and best in the world of fly fishing. We also place a strong emphasis on fly fishing education and there will be free programs and seminars, casting demonstrations, fly tying and more taking place over the three days of the event.  Proceeds benefit the non-profit Minnesota Trout Unlimited.
--
Attend the Friday Fly Fishing Social, Hosted by Fly Fishing Women of Minnesota. Doors open at 6:30 in the Drew Fine Arts Center Lobby just across the sidewalk from the Expo!  Additional details to come as the event nears.
--
Attend the Fly Fishing Film Showcase at 6:30pm on Saturday, March 18th! This is the official Saturday evening event of the Expo and features Midwest regional submitted films, hors d'oeuvres, local beer and giveaways!  Held in the Drew Fine Arts Center Lobby and Anne Simley Theatre just across the sidewalk from the Expo at Hamline University.

--
If you cannot attend but wish to make a donation to MNTU, please click the Buy Tickets link and follow the prompt.
Official Expo and Event Hours:
Friday, March 17th 1:00pm-7:00pm
Saturday, March 18th
Expo Hours 9:00am-6:00pm
Film and Video Showcase (more info) 6:00pm-10:00pm, doors open at 5:45, film showing starts at 6:30.
Sunday, March 19th 10:00am-4:00pm
Individuals needing special assistance (ADA, food allergies, etc.) are requested to notify Minnesota Trout Unlimited prior to the event.