---
---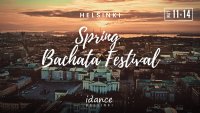 LIMITED SPOTS! COUPLE PASSES ONLY INITIALLY!
- Looking for a partner? Ask someone in your classes or at parties! Or make a post in FB/WA Bachata groups or in the Official FB Event.

For more information check out the website:
helsinkibachatafestival.com
For questions write an SMS or WhatsApp to Omar on +358 50 573 9449


Get a discount by using a promo code!
Discounts valid on Individual Track Passes and Party Passes!
To get a promo code:
- Attend I Dance Helsinki parties
- Ask a promoter

Payment Instructions
Part 1) 50% Online + 8€ Ticketing and Payment Processing Fees*
Part 2) 50% in Cash at check-in desk.**
*You can pay Part 1 using Smartum/ePassi/Edenred - Contact Omar via WA on 050 573 9449 for details.
*Optionally you can save on the Ticketing and Payment processing fees by paying in cash to Omar at one of the parties or at Avec before/after classes with Omar & Johanna
* & ** Promo Code discounts get applied to the first Part Only, the amount due for the second part is as stated on the tickets.

Buying Instructions
The buyer is responsible for the purchase for themselves and their partner.
If/Wherever applicable the buyer deals with any financial transactions between themselves and their partner.
When buying through this platform the buyer pays 50% + Ticketing & Payment Processing fees online through this platform.
The buyer receives the tickets in their email and is responsible to forward their partners' tickets to their partner(s).
The buyer pays the remaining 50% for themselves and their partner at the door/check-in desk in cash, please take the exact amount to speed up processing, and if applicable get the money from your partner beforehand!


Checking In
The check-in desk will be open during specific times before the start of workshops.
When checking in please have your pdf ticket ready to be scanned.
Promoters
Do you have reach in your local bachata community, are a dance school owner, teacher, DJ, or event organiser.
We appreciate your efforts and would love you to share the Bachata passion and help attract and unite dancers!
Want to promote the event? Contact Omar via WA on 050 573 9449 for details and to get a promo code!