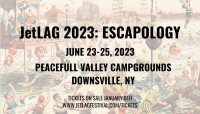 TICKETS WILL NOT BE SOLD AT THE EVENT.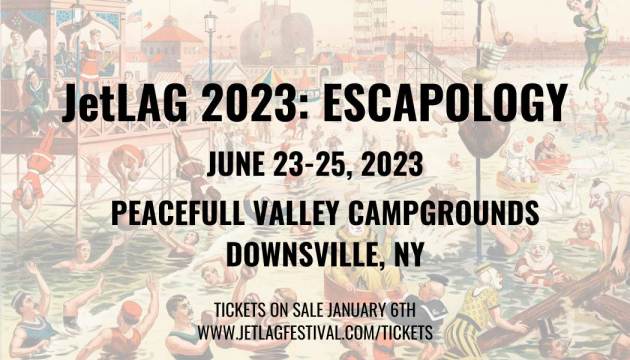 Image: The Barnum & Bailey Greatest Show on Earth The Great Coney Island Water Carnival. Published by Strobridge Lithograph Co., Cincinnati & New York. C. 1898

JetLAG 2023: ESCAPOLOGY
Escapology is the name of an ancient circus art of escaping from restraints or traps. True Escapology is a beautiful challenge that requires intellect, courage and desire to recognize and explore your own bindings and locks, both internal and external, in order to escape from them into reality. Circus provides an arena for things unusual, extraordinary, eccentric, funny, risky, and skill-requiring.
JetLAG-2023/Escapology celebrates the spirit of this art, and of the Circus in general.
Welcome to the Circus!
Welcome to Escapology!
Welcome to JetLAG-2023!
Ticket prices and dates of sale:
*Each Tier is sold until the next Tier goes into effect, or the Tier Tickets are Sold Out.
GA Adult Tickets:
TIer I         on Sale January 6th         $135  (Sold Out)
Tier II        on Sale January 10th       $155  (Sold Out)
Tier III       on Sale March 8th           $175  (Sold Out)
Tier IV       on Sale June 1st               $195
Student Tickets:
TIer I        on Sale January 6th         $90   (Sold Out)
Tier II       on Sale January 10th       $95   (Sold Out)
Tier III      on Sale March 8th           $100 (Sold Out)
Tier IV      on Sale June 1st               $110

Giving Back: Good Music for Good Causes
In 2022 we raised around $35,000 for organizations helping people impacted by
the war in Ukraine: half of the money came from donations and merchandise sales,
the other half from ticket sale revenue. Let's make it a tradition. An optional $35
donation to Good Music for Good Causes is added to each ticket purchase. The
recipients of the money raised will once again be causes and aid groups organized by
and related to our JetLAG community. Our primary focus is to raise money for
humanitarian efforts in Ukraine including medical aid and education, immigration and
migration support, transportation, evacuations, clean water, and food delivery. Part of
the funds will be dedicated in memory of Dina Vistman, who cared deeply and worked
hard for the missions close to her heart and ours: Ukraine, reforestation in the
Amazon, neuro-oncology research, and clean oceans.
Community Appreciation Tickets:

The JetLAG Community Appreciation Ticket program offers a limited amount of tickets
at a discounted price for attendees who come from lower-income backgrounds, or who
have exceptional circumstances - and for whom a discount would make an impactful
difference in their ability to attend the festival.



Ticket Policy:

All ticket sales are final. JetLAG Festival tickets are non-refundable. No exceptions.
JetLAG Festival is not responsible for tickets purchased from anywhere other than the
official JetLAG Festival website. If you arrive with an invalid ticket, or if the barcode on
your ticket has already been scanned, you will not be granted admittance to the festival.
Please see our website's FAQ page if you have any questions, or if you need additional
assistance, you can always us at info@jetlagfestival.com or by messaging our Facebook Page.
If you have any questions about your tickets email info@jetlagfestival.com

Location:

Peaceful Valley Campground, 13755