---
---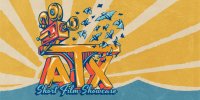 The ATX Short Film Showcase is Austin's monthly film festival. Every month, we curate 8 local short films, followed by a Q&A session with the filmmakers.
Whether you're interested in learning about the filmmaking process, looking to network with fellow Texas filmmakers, or just want a fun night of entertainment, come check us out!
Screenings take place INSIDE the legendary Ballroom ATX - full bar available with food trucks on site.
Tickets are $12 online in advance and $15 at the door. The show starts @ 8. Doors open @ 7:00 and stay open as long as we want so show up early and leave late in order to network with some seriously talented Texas artists (both in front of and behind the camera).
Filmmakers can submit their work at filmfreeway.com/ATXShortFilmShowcase
The ATX Short Film Showcase is dedicated to spotlighting the best filmmakers in the Lone Star State - artists with passion and grit, who don't need a big budget to tell a story worthy of the silver screen.
Our goal is to provide a platform for Texas filmmakers to screen their work in front of a live audience, receive valuable feedback, and network with their peers.