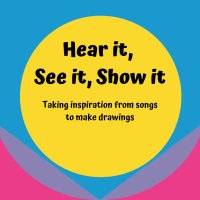 What: Each week we will listen to a different song or piece of music, exploring it to create a comic, zine, or series of illustrations. Through guided activities, you will build a visual language inspired by a diverse range of sounds across different genres, voices and eras, varying in lyrical content - and sometimes with no lyrics at all! Stories, mood and movement are all conveyed in music, song and comics, so let's see where we go...

When: Every Wednesday from October 4th - December 13th (barring Oct 18th) from 7-9pm with an optional 30 mins extra for anyone who would like to continue the discussion. 10 sessions in all. You can drop-in or attend the entire course. See ticketing for details.
How: Via zoom, so you'll need to provide your own materials. There are no specific materials required, so go with what you feel comfortable with, or maybe feel like experimenting with. The link will be sent to you with any added information prior to each session.
Who: This course is for anyone with an interest; all levels of experience welcome. It could be you have never attempted to illustrate anything before, or you do it all the time but feel like having a bit of structure and a group to do it with.
Pricing: There are different pricing options available, but please do contact me if funds are low and you'd like to come.
**IF IT'S YOUR FIRST SESSION, BE SURE TO SELECT THE 'IT'S MY FIRST SESSION INTRO PRICE' FOR £5**
Click here for the songs: Hear it, See it, Show it 3 PLAYLIST
Previous playlists available here: 
HSS1
HSS2

Please note, all these songs are copyrighted so the lyrics cannot be written with your drawings and published digitally or otherwise.