---
---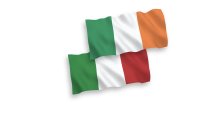 Join us for the 31st annual Diplomatic Ball: KC Cultural Diversity Celebration. 
Enjoy an enchanting night of Irish & Italian themed food & entertainment.
Your ticket purchase includes a choice of dinner:

Chicken Parmesan
Cod w/Irish Cream Sauce
Shepards Pie w/Lamb
Vegetarian entrée
Cash bar is available before dinner on the Terrace, and in the Ball Room during event.
Please specify your food choice and if you have a preference of country or area of the world for seating when ordering.
Cultural attire or formal dress is requested.
Event Time: 5:30 pm - 12:00 am
"The I's Have It"
 Hosted by the Irish & Italian commissions.
Note: Diplomatic Ball Tickets are not refundable.