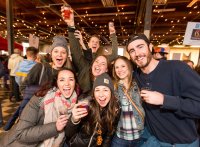 The legendary, always locally focused, always sold out Mile High Beer Festival returns in 2023!
Saturday, April 1, the Annual Mile High Beer Festival will offer up samples of the best craft beers in the great state of Colorado.
AFTERNOON & EVENING SESSIONS
• Session One – 2 pm-4:30 pm (Early Entry at 1:30 pm)
• Session Two – 5:30 pm-8 pm (Early Entry at 5 pm)
TICKET OPTIONS
General Admission: Includes entry to the event and unlimited sampling, commemorative sample glass
Early Entry: Includes half hour early entry and unlimited sampling, commemorative sample glass.
This event is for ages 21+ only. IDs will be checked at the door. No refunds will be issued. Event will go on, rain or shine(it is indoors). Be sure to use ride sharing services and never ever drink and drive. Know your limits, no extra points are awarded for getting sloppy.
Follow us on Instagram -@milehighbeerfest
35+ vendors and over 100 beers to sample!
105 West Brewing
6 and 40 Brewery
A Bit Twisted Brewpub
AC Golden Brewing
Aspen Brewing Company
Batch Slapped Brewery
Big Beaver Brewing Company
Black Shirt Brewing
Black Sky Brewery
Briar Common Brewery + Eatery
Capitol Creek Brewery
Ceria Brewing Company
Climb Hard Cider
Danico Brewing Company
Rock Bottom Brewery
Elevated Seltzer
Firestone Walker Brewing Company
High Hops Brewery
High Trestle Brewing
Hooch Booch
Lazy Pour
Left Hand Brewing
Mobcraft Brewery
Outer Range Brewing
Prost Brewing Company
Rey Azul Tequila Soda
Sanitas Brewing Co
Schilling Hard Cider
Sunroom Brewing
Syndicate Brewing Co
TightKnit Brewing Co
Upslope Brewing Company
Urban Animal Beer Co
Westminster Brewing Co
Windfall Brewing Co
Yetters Brewing Company


FAQs
What happens if it snows?
Mile High Beer Festival happens snow or shine (it is indoors)
Are kids allowed?
No. This event is for ages 21+ only.
What breweries will be there?
Breweries will be announced on our IG and on this event page.
How do I get involved?
Email us at contact@drinkdenver.co
How do I get a refund?
Tickets are non-refundable.
Are tickets transferable? Can I sell them or give them to a friend? Can I buy tickets from someone else?
Tickets are transferable. You may sell or give your tickets to someone else, but please make sure they are over 21 years of age. The names on the tickets don't have to match. However, if you would like to change the names and have them re-sent to the new attendee, we can help, simply message us.
Please be aware of scammers that are trying to sell fake tickets. Before you buy, you can verify that the tickets are legitimate by contacting us. We will be happy to help! Email contact@drinkdenver.co