---
---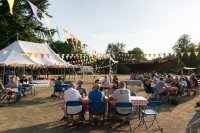 Buy Meal Tickets for The Adventure Travel Film Festival 2023
For the third and final time, our catering chiefs, Thamar and Hugh, are back at the helm of our brilliant in-house F&B operation.
Meal tickets must be purchased in advance, rather than on the spot at the festival. You are more than welcome to self cater but when there's full English breakfasts, rendang curries, roast chicken, tacos, lasagne and BBQ delights on offer, is it the wisest choice? Vegetarians and vegans are heartily catered for at all meals. Menus are subject to change if required. Full menus available to view on the website here. 
Meals are available as a combined bundle or individually. Save £6 by purchasing the combined ticket compared to the cost of the individual meals and be completely catered for from Friday evening to Sunday afternoon.
We will have gluten-free meals available but please let us know in advance if you would like that option. If you have a food intolerance or allergy, please get in touch to confirm what we're able to provide. Plant-based diets are heartily catered for and we we avoid the use of serious allergens including nuts.