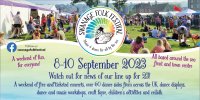 Swanage Folk Festival is a fabulous family weekend festival by the sea.
Throughout the weekend there are many concerts, workshops and dance events going on. For the full programme visit www.swanagefolkfestival.com. Tickets are available for each concert, the comedy cluib, or you can save money and get a weekend wrist band. Wrist bands allow you access to all of the paid events across the weekend.
Concerts are in the main marquee each evening (Friday - Sunday), entrance by ticket only. 
There are also events in the Conservative Club on Saturday and Sunday afternoon, admission by ticket only.
Save yourself money by getting an wristband for the whole weekend (until they run out), this allows you entry into all concerts and workshops.
Once you've brought your tickets enjoy a brief video of last year's festival and see you soon.
This is our 31st year and the festival has come a long way since our first day of dance. It has grown into a full and varied weekend of music and dance. From Friday to Sunday our small seaside town on the beautiful Jurassic coast of Dorset fills up with hundreds of colourful dancers and the town will resonate to the sound of bells jingling, sticks thwacking and excellent music.
The hub of the festival is Sandpit Field, with a concert marquee and festival bar, the festival information tent and dozens of colourful craft stalls. Over the weekend music concerts will take place at venues around the town. Dogs are allowed on the field, and the marquee (subject to terms).
Keep up to-date on the latest information and our concert line-up by looking on our festival website, www.swanagefolkfestival.com.
There will be opportunities to get involved with workshops, music sessions in the local pubs and the free entertainment on Sandpit Field for the young of all ages. For something more energetic there is the festival dance at the Swanage School on Saturday night.
Traditional dance teams will all over the town and a spectacular dance parade will take place on Saturday afternoon. All the dance sides ask in return is loud applause and your spare small change (better still notes) or increasingly your contactless payment details.
All tickets are sold subject to our terms and conditions (click here to read them).