---
---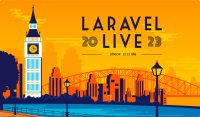 Laravel Live UK is a two-day conference on 22 - 23 June 2023.
For the third year, join over 300 Laravel and PHP enthusiasts for inspirational talks, engaging networking and amazing learning opportunities.
Talks will be focused specifically on Laravel and the Laravel ecosystem. We'll be diving deep into Laravel and related technologies.