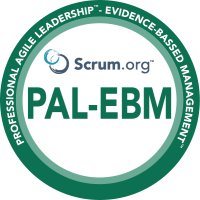 With markets and customer needs constantly changing, organisations need information and evidence that helps them adapt quickly to new challenges and opportunities so that they can deliver greater value and achieve true business agility. Yet organisations that use Agile product development techniques often use traditional management approaches, expecting leaders to set firm long-term goals and manage progress toward them with dashboards of static metrics.
That is why Scrum.org created the Evidence-Based Management (EBM) framework which is an Agile approach to help leaders guide their teams toward continuously improving customer outcomes, organisational capabilities, and business results. EBM focuses on customer value and intentional experimentation to systematically improve an organisation's performance and achieve their strategic goals.
In this one-day class, participants learn what EBM is and how to apply it through hands-on, activity-based learning. Through a series of exercises participants learn techniques that support a more agile mindset.
Overview
Using empiricism to set and achieve strategic goals
Managing complexity through experimentation
Creating a cultural environment using clear goals, appropriate measures and trust to enable self-management and autonomy
Shifting the conversation away from measuring progress through team performance metrics to customer outcomes
Driving operational improvements with the four Key Value Areas for evidence-based decision-making
Prerequisites

Attendees should have read the Evidence-Based Management Guide, have an understanding of Agile practices and a desire to move away from traditional, plan-driven ways of working and measurement models, however they do not need specific experience with Scrum. The Professional Agile Leadership - Essentials course helps leaders understand how to best support their Agile teams and is ideal preparation for PAL-EBM, but is not a prerequisite.

For all of our live virtual classes, we use Zoom as our conference tool. Zoom is very secure. It uses end-to-end encryption and delegates can only access the conference via an admin controlled waiting room. Activities are carried out with Mural. No software is required to be pre-installed for these tools, though you may need to check that there are no security policies that block the use of these tools if you are joining us through a corporate network. We ask you to try to ensure a steady internet connection (for example by connecting through cable rather than with WiFi).

Certification and Assessment

All participants completing the Professional Agile Leadership - Evidence-Based Management course will receive a password to attempt the Professional Agile Leadership - Evidence-Based Management (PAL-EBM) assessment. PAL-EBM class participants who attempt the PAL-EBM assessment within 14 days of receiving their free password and do not score the pass mark of at least 85% will be granted a 2nd attempt at no additional cost.

What else is included?

Course eBook
Membership to the Red Tangerine Slack channel giving access to our alumni community
Terms and Conditions

View our full Terms and Conditions here.

Payment options
Payment can be made by credit / debit card or bank transfer. Please select the relevant option when booking.
A note for companies

VAT registered companies outside of the UK should be exempt from paying UK VAT. Contact us at info@redtangerine.org to make arrangements.

About the Trainer

John Coleman

John Coleman is an active practitioner with 15+ years of experience in growing sustainable agility. John help teams, managers, leaders, change agents, and executives in software and non-software teams and organisations. He is a Flight Levels Coach, ProKanban Professional Kanban Trainer, Scrum.org Professional Scrum Trainer and a LeSS Friendly Scrum Trainer. John is also the creator of Kanplexity™ and XAgility™, and the host of the Xagility™ and Agility Island podcasts.
John is a prolific blogger on advanced topics, and he leads on content creation for Scrum, Lean UX, measurement, Kanban, scaling, de-scaling, executives, people and change. He is #2 in the Agile Thinkers360 list and appears in the Leadershum Top 50 Agile Leaders 2022.
Price: £745

First Two: £595