---
---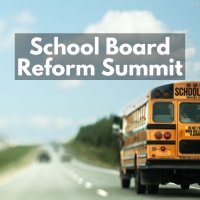 Parents and concerned citizens in school districts across California are forming coalitions to fight for reform in their school district!
Reform California is supporting them with resources and grassrootstools – and is inviting any concerned parents, civic activists, current schoolboard members or candidates to attend a special "School Reform Summit."
The goals of our School Board Reform Initiative are to elect newreform-minded school board members and work with existing reformers on schoolboards to:
1) how to build and expand coalitions of committed schoolreformers in each school district
2) how to demand improved quality of education and removal ofcontroversial and divisive curriculum from classrooms
3) how to run a successful campaign for school board – or endorseand support candidates.
Please share this invite with any incumbent school board membersyou trust, anyone interested in running for school board, or any concernedparent that wants to help change policy in their school district.
This event is FREE – but space is limited so please RSVP today!
Ad paid for by Reform California. Advertisement was not authorized by a candidate or a committee controlled by a candidate.