---
---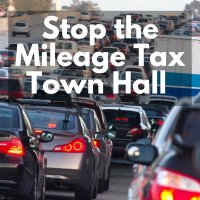 Join Reform California Chairman Carl DeMaio for an important community Town Hall to oppose the costly and unfair Mileage Tax being proposed by SANDAG – and to demand that politicians return money they raided from our road repair funds! (RSVP required below)
What could be worse than the San Diego County politicians stealing our road improvement funds originally earmarked by voters for roads?  
Those same politicians now want even more of our money by proposing a new "MILEAGE TAX" to be imposed on all the drivers – along with a massive new Sales Tax hike at the same time!
San Diego politicians are directing the county's SANDAG transportation agency to move forward with the process of imposing a Mileage Tax to track your mileage and charge you anywhere from 4 to 6 cents per mile you drive – with the rate going up from there!  This new Mileage Tax will cost the typical driver in San Diego County at least an additional $600-900 per year!
And it gets worse. On top of the new Mileage Tax, local politicians are also supporting a massive SALES TAX increase as well! Funding will go to transit and bike lanes, but nothing to fix our roads.  
Carl DeMaio is leading the county-wide campaign to Block these crazy and costly tax hikes – and end the politicians' raids on our road repair funds.  
Please join Carl DeMaio, other elected officials who are working with us, and other concerned citizens to discuss how to win this fight to fix our roads and stop costly and unfair tax hikes!
Ad paid for by Reform California. Advertisement was not authorized by a candidate or a committee controlled by a candidate.