---
---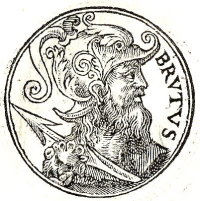 The date of this event has been changed from 22/03/2023.

Hidden History Webinar
This mind-blowing presentation will take you on a historical journey which begins in 1103 BC with the Trojan Migration to the isles named after Brutus, Britain's first Sovereign Paramount, progressing to the advanced Druidic civilization which gave rise to the Molmutine Laws – the foundations of what we know now as the Common Law – and on to the failed Roman invasions by Julius Caesar, the foundation of Christianity in Britain around 36 AD and the true location of the Biblical Lands.

WEBINARS ON DEMAND | Terms & Conditions

Please be advised that subject matter and the date the webinar takes place is subject to change, since our webinars run on demand, when enough tickets are booked in advance to cover all the costs of keeping the vast majority of MOB's content paywall-free for one month.
However, if the minimum booking threshold is not reached within 24 hours of the listed date or there is an unexpected change in circumstances, the date of the webinar may be changed.
Nevertheless, full refunds are always available by emailing orders@a-fp.net and cancelling your booking. But all tickets purchased are still valid for any new date subsequently listed.
All Rights Reserved under Universal Community Trust.