---
Buy tickets
Ticket Type
Price (£)
Fee (£)
Quantity
---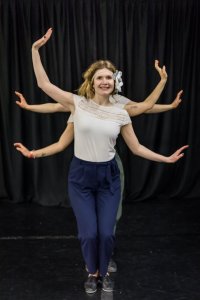 At The Swing Era we LOVE Solo Jazz!

We run different solo jazz courses throughout the year, and we strongly believe Solo Jazz does wonders for your partner dancing and technique. Through this Facebook event we will keep you up to date about the different Solo Jazz courses.

**Solo Jazz 6-week courses with special guest teacher**

Starting this autumn we have special guest teacher Eugenia Sergueeva who will be teaching Level 1 and Level 2 Solo Jazz courses.
Level 1 Solo Jazz
Tuesday 18:45-19:45pm Moseley School & Fitness Centre. 6 week course, starting date 16 October
We welcome all students who are completely new to Solo Jazz to attend this course. Learn exciting authentic solo jazz steps, and really get your basics sorted with an A-Z of jazz steps.

About Eugenia
Eugenia Sergueeva is an experienced dancer and teacher, who will set up base in Birmingham for a year. Eugenia will teach as a special Guest teacher for The Swing Era, and is keen to share her wide knowledge of Solo Jazz with you. Eugenia has danced and taught in Minsk (Belarus) and Bristol, where she co-ran the Bristol Jazz Movement and performed with the Bristolettes and the Magnolias.


VENUE: The venue is Moseley School and Fitness Centre, Springfield Road, Moseley, Birmingham, B13 4LR