---
Buy tickets
Ticket Type
Price (£)
Fee (£)
Quantity
---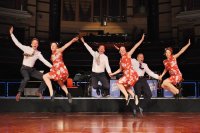 **Find a partner and get ready to sign up. Limited availability**
Always wanted to learn aerials? Now is your chance...
The Swing Era is delighted to bring you a beginners aerials workshop. An aerial is a dance step where your feet leave the floor. The difficulty of the aerial can range from simple lifts and dips up to aerial gymnastics.
During this workshop you'll be in the skilled and safe hands of Martyn and Suzanne, and will learn the following:
- A number of exciting aerials, including lifts and dips
- How to lift your partner (and be lifted) in a safe way, whilst looking after each other
- How to spot: working in groups to help each other practice the aerials.
- How aerials can be performed during jam circles, performances and competitions (strictly NOT on the social dance floor)
Partner requirements (please read carefully before booking on):
- You can only book on to this workshop as a balanced Lead/Follow couple (not gender specific)
- One of you will be the base and the other the flyer
- You will NOT rotate partners during the workshop
- As a Base you will need to be able to comfortably lift your Flyer in cradle hold
- Sign up with a partner who is generally the same height as you, since big height differences make it harder to keep the shape / energy balanced
Level Requirements: 
You will need to have completed at least a Level 2 course in Charleston and 6/8 count footwork, or have been dancing in Level 2 drop-ins for at least 4 months.