---
---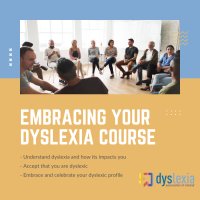 The Dyslexia Association of Ireland (DAI) is delighted to confirm we are offering a new Adult Dyslexia Workshop called Embracing your Dyslexia. We understand how challenging it can be to embrace your dyslexia. For many, it's a long and ongoing journey, one that requires patience and courage. However, despite this, it's a journey that reaps rewards. By embracing your dyslexic profile, you can celebrate your true self, moving forward, and growing in confidence and self-esteem. Our facilitators are here to support you on this journey by providing you with the knowledge and tools to advocate for yourself. Our workshop is a safe and supportive space to build connections, learn from one another, ask questions, and share as much or as little as you like without pressure or judgment. 
Please note you must have an identification of dyslexia to attend this workshop (but you do not need to bring your report to the workshop).
This workshop aims to:
Offer a deeper understanding of dyslexia
Boost self-esteem and build resilience
Explore disclosure
Date and Time: 18th November 2023 from 10AM until 2PM.
Venue: To be confirmed.
Course Fee: €10 for DAI members, €30 for non-members.
Presenters: DAI's Adult Dyslexia Team
If you have any queries about the course, please contact comalley@dyslexia.ie