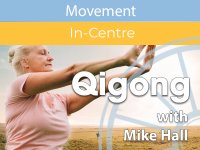 Mondays| 6pm - 7pm | In-centre | £12
Qigong
Mike Hall invites you to try an amazing form of exercise with numerous health benefits. Join us for weekly classes of Qigong. Mike, who has been practising Qigong for over 20 years, will lead you through exercises, meditation and discussion every Tuesday evening.
Regular practice of Qigong will develop your tendon power. Tendons recycle energy and can be thought of as robust rubber bands. They absorb energy, stretch and then whip back – a process known as 'elastic recoil.'
Most of us, through sedentary lifestyles, have underdeveloped tendons. This makes controlled and balanced movement almost impossible to achieve.
The more we develop our tendons, the more we unite and connect our body and allow our various body parts to function together as one harmonious unit.
Through consistent practice over a long period of time, you will be able to condition your tendons. Once sufficiently strengthened, your tendons will maintain their cultivated strength.
Join Mike Hall for Qigong and discover how you can permanently improve your health and wellbeing.
What to Expect
You don't need to bring anything to class however we recommend water and comfortable clothes that you can stretch in.
Regular Qigong Practice will;
1) Strengthen your Body.
2) Promote Spinal Health
3) Enhance Energy Flow Within Your Body.
4) Mobilise Your Joints.
5) Develop Metal Focus and Clarity of Mind.
6) Aid in Stress Reduction.
7) Bring Emotional Balance into Your Life.
The class will take place on our first floor which is accessible only by a short flight of stairs. Click the picture below to get an idea of a typical Qigong class.
About Mike Hall
Mike Hall has over 20 years of teaching 'The Art and Science of Qigong'. His work in this field has been highlighted in the award-winning book, In Praise of Slow (Honere) which reached the top ten bestsellers list in the USA and UK. Mike's application to Qigong in 'Every Day Life' has also featured in 'Frontiers' a BBC Radio 4 Science Program and the New Scientist magazine.