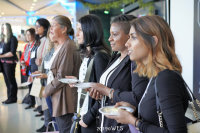 What, When, Where:
The Women in Engineering Summit (WES) team is hosting its sixth annual event on Friday June 9th, 2023, from 8:30 am to 4:30 pm MDT. Attendees have the opportunity of attending in person in Edmonton and Calgary, or online.
Why you must attend this event…

We have expert panel discussions about EDI (equity, diversity and inclusion) and the 30 by 30 initiative. It is the perfect way to network, share experiences and implement this understanding to positively influence the dynamics of our workplaces and communities, enriching engineering culture in Canada.
As an attendee: you will have the opportunity to network and connect with like-minded individuals and companies who share your values, culture, and have a meaningful impact by voicing your position on 30 by 30 and EDI in the workplace.
As a company: you will gain visibility as a promoter of equity, diversity and inclusion (EDI) among students, practicing professionals, the community, potential partners / clients as well as regulators and other stakeholders.
This year's theme: "Empowering Internationally Trained Professionals to bridge the 30 by 30 Women in Engineering Gap".
The aim is to address how universities, employers, regulators and peers can not only facilitate the transition of Internationally Trained Professionals (ITPs) into Canada, but truly embrace their talents and invite them to sit at the table.
Representation matters to us!
WES 2023 has an incredible line-up of speakers who will empower underrepresented communities of engineering professionals such as:
Women, indigenous, and LGBTQIA2S+ by addressing unconscious bias, inclusion strategies, career planning, and mental wellbeing.
Internationally Trained Professionals (ITPs), who often have to navigate a different culture and unwritten rules in the Canadian workplace.
Come help us take a step towards realizing the goal of achieving inclusivity, diversity, and fairness by actively educating ourselves about the challenges and barriers faced by the minorities!

For more information about this event, visit www.womeninengg.ca, or contact us at info@womeninengg.ca.
There is no need to have a PayPal account, please click on "create an account" and you will have the option to pay with a credit card. Thank you.
Sponsors can donate using this platform, or can contact us for other available methods.
In Person locations:
Alberta Innovates Edmonton Research Park | 250 Karl Clark Road, Edmonton, Alberta, T6N 1E4
Alberta Innovates Calgary Research Park | 3608 – 33 Street NW, Calgary, Alberta, T2L 2A6