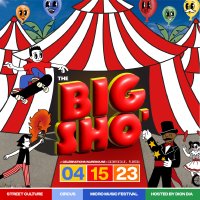 EVERYTHING YOU NEED TO KNOW ABOUT THE BIG SHO'
The BIG SHO' isn't just a music festival. It's an experience – a crossover of street culture combined with the circus, stripped of the elements that earned its historically negative reputation. Vintage in aesthetics but not in principle. A healing rejuvenation for the scars of the past and a portal into the present soul.

It's a reclamation of what it means to exist without fear of restraint; in a way that recognizes oneself and others for who we are. Humans.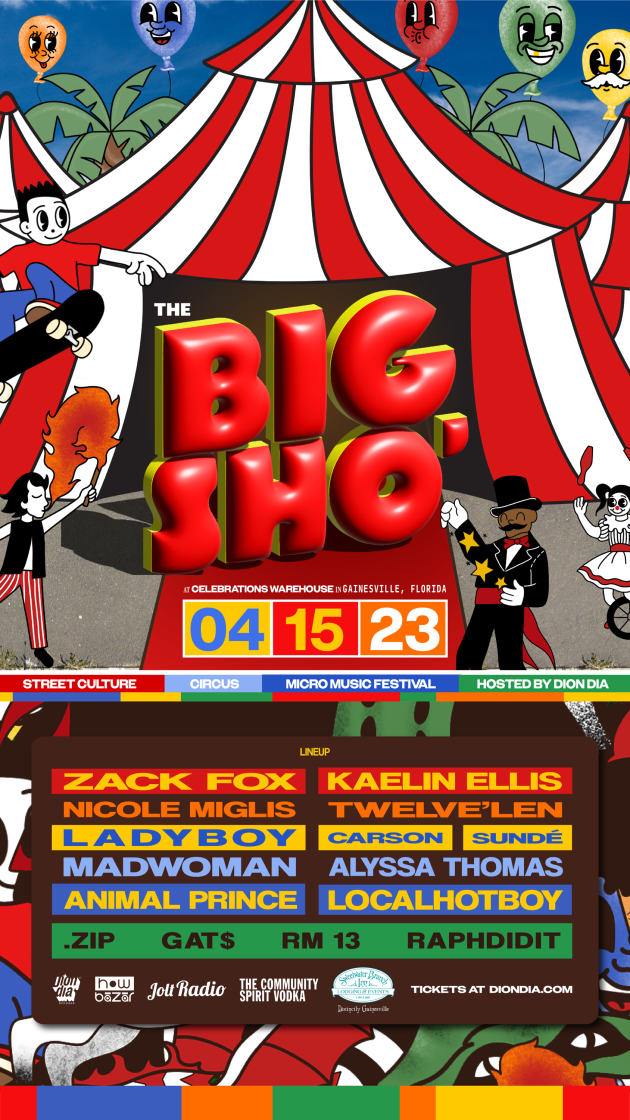 GENERAL FESTIVAL INFO
Date: Saturday, April 15         Time: 3PM-2AM
Location: Celebrations Warehouse — 317 NE 35 Ave, Gainesville, FL 32609
Parking: We are working on parking options around the festival venue, we will keep you updated! However, we highly suggest using Uber and Lyft for safety, environmental and logistical reasons. VIP ticket holders will receive Uber and Lyft discount codes 24 hours before The BIG SHO'.
All ages welcome.

Kids 5 and under Free. (General Admission only.)

Rain or shine.


All attendees subject to search.

Lineup & set time are subject to change without notice.

The BIG SHO' will be cashless aside from tips.


Those wishing to purchase or consume alcohol must be 21+ with valid form of ID

Valid forms of identification include: any US government-issued driver's license or ID card, US or foreign passport, foreign government-issued driver's license/ID with photo of passport

All sales are final — no refunds or cancellations (unless the festival is postponed or canceled). If need be, exchanging of tickets is allowed. Original ticket purchaser must contact diondia@23rdesque.com to facilitate that process.

TICKET TIERS
Early Believer — This is for the day ones and those who have believed in us since the beginning. We love and appreciate you. We'll see you soon (: 
General Admission — GA for THE BIG SHO'! Thank you for believing in us, we won't let you down.
An Even Better Experience (VIP) — Do you want to give yourself an even more memorable experience at THE BIG SHO'? Treat yourself to a VIP ticket! VIP passes will include access to a special VIP section equipped with will include its own bar with speciality cocktails, free massages, exclusive circus performers, and other goodies.


ZERO TOLERANCE
Behavior that is disruptive, potentially harmful to others in our community will not be tolerated. This includes, but is not limited to the following:

Disruptive behavior of any kind that interferes with the event or performances.

Ignoring requests from staff and security regarding facility operations and emergency response procedures

Verbal or physical harassment, including abusive language and gestures, threats, cursing or sexual language directed at others

Any form of discrimination or harassment because of race, color, creed, religion, national origin, citizenship, sex, pregnancy, age, marital status, sexual orientation, gender identity or expression, disability, or veteran status

Behavior that is in violation of local and federal government laws and regulations