---
---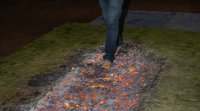 Here's a burning question for you...
IF YOU CAN WALK BARE FOOT ACROSS RED HOT COALS, WHAT ELSE COULD YOU DO IF YOU PUT YOUR MIND TO IT?

Our clients often tell us, that taking that first step through Clan's doors for support during their cancer experience can be the most difficult one, but once they've crossed that threshold, they are able to keep moving forward.
With our clients journeys in mind - why not step outside your comfort zone and take part in this fiery challenge to raise funds for Clan?!  We'd be stoked if you could join us at Clan House on the evening of Saturday 20th January 2024. It'll be lit!
You don't require any specialist kit or training - this challenge is open to anyone aged 16 or above. Participants must arrive at 6pm so that you can attend the mandatory 90 minute training workshop. before taking yourself to new fahrenheits as you walk across the coals. Spectators are not permitted to participate in the workshop itself, but will be very welcome to watch your incredible 'feet'!
The registration fee for this event is £20 per person, and we ask that you aim to raise a minimum sponsorship of £100.
As a charity that relies on the generosity of individuals, families and companies to ensure the ongoing provision of our free services, we're always looking for new and exciting ways to encourage people to raise funds for our vital person centred services. We aim to help people live with and beyond cancer and improve the quality of life for all those who turn to us for help and support, but we can't do that without you!