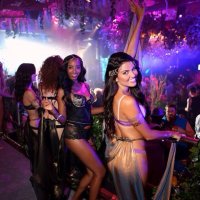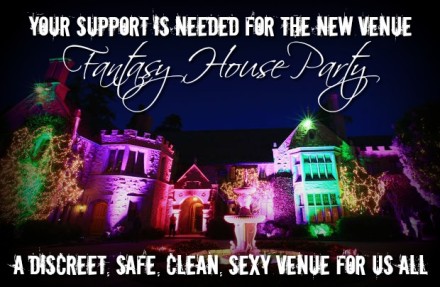 FANTASY HOUSE EVENTS
NEW VENUE DONATION 
September 1st - October 31st
Sponsored by

LIFESTYLE GATHERING VENUE
The sexy FANTASY HOUSE group is searching for a new venue.  For the ones who don't want the party to stop we need your support.
WHO WE ARE
We are a private membership only club that provides, organizes and supports sophisticated adult events with absolute discretion.
Because of this is the group is friendly, kinky, open-minded and everyone loves to have lots of fun!
EVENTS
When you are at one of our parties there are many opportunities to observe or take part in different sexy activities, from the gloryhole wall, rigging, female gloryhole, being tied up on a St. Andrew's Cross, to being put on the Sybian, stripper pole, lounging, private play or having sex with your choice of many sexy people. There is never any pressure to do anything you do not want to do. Anyone who has been to the "Treehouse" knows that it is always a good time with people who like to have sexy fun.
WHY ARE WE MOVING
The "Treehouse" has come under attack from a very discriminating neighborhood. So for our safety it is best to move locations and this is for the better because the hope is to move up to a mansion style house with even more space, a pool and more. In order to make this happen though we need some help!
SUPPORT NEEDED
If each of our members donate $20 then we can make sure we get an even better party space for everyone. The "Fantasy House Party" is a unique swingers club as they are much more open to having single males come to the parties and are hugely accepting of the LGBTQ community. Imagine if the "Treehouse" venue went away forever having to go to one of the other clubs that aren't as friendly and open.
Your $20 donation will go a long way to allowing us to get an even better party location with more rooms for everyone to play and more space for everyone to hang out and mingle. Compared to other clubs whose memberships are around $100 a year, ours is only $10. We know that no one wants the fun to end but we need your help to make sure that happens!
Please donate today in order to help the naughty, kinky, sexy fun continue with all of our sexy friends. Our goal is to get all members to contribute before the end of September so we can secure the new venue.
DONATE
Without your help we all may not have a place to go and party like we did before. Help us go bigger and better for everyone.