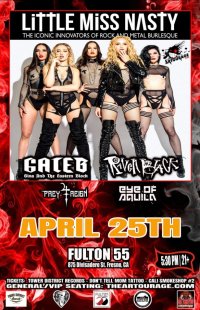 The Artourage presents
Little Miss Nasty | Gina and the Eastern Block | Raven Black
with Prey 4 Reign | Eye of Aquila 
April 25th at Fulton 55 (21+) | 5:30 pm | 21+
$25 GEN ADV  | $200 VIP Table for four. (Includes 4 RSVD VIP seating tickets)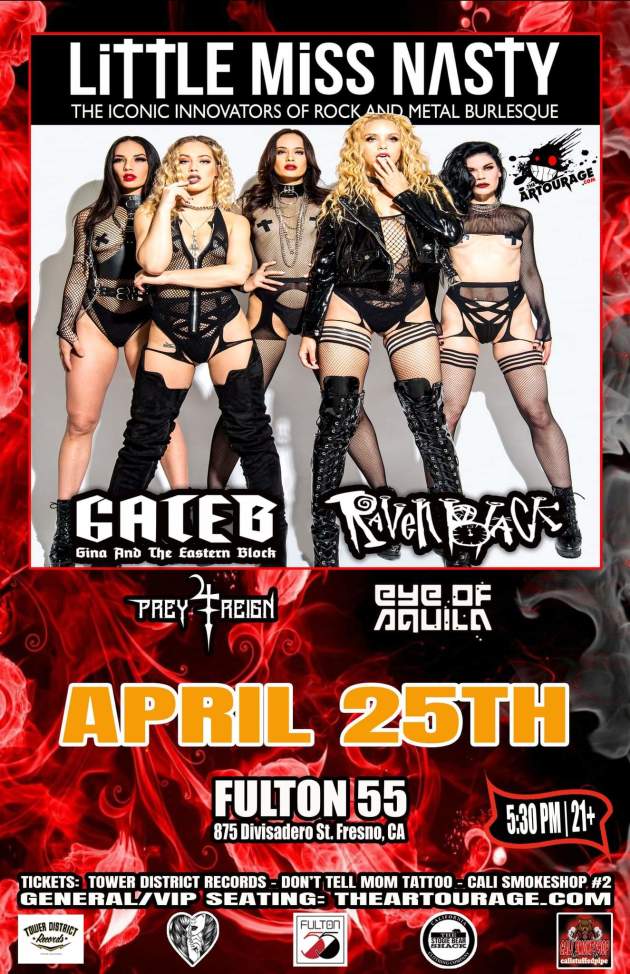 PRESS: LOUDWIRE | BLABBERMOUTH | REVOLVER MAGAZINE | THE PRP 
Straight from sold out residences in Las Vegas and LA, prepare for an evening "off the leash" with the seductive icons of dark performance art and rock and metal burlesque – Little Miss Nasty!  It'll be an electrifying spectacle of dancers, performers, and over-the-top visuals.  Little Miss Nasty are the innovators and iconic pioneers of Rock and Metal Burlesque.  The Little Miss Nasty live experience is a professionally choreographed production featuring some of the entertainment industry's best dancers, aerialists, vocalists and contortionists.  The show is full of over-the-top visuals and blazingly cool music from Korn, Slipknot, NIN, Rob Zombie, RATM, IC3PEAK and others along with surprises that leave jaws on the floor and memories fired up.
Little Miss Nasty delivers an overwhelmingly powerful experience that inspires and defies genre because Little Miss Nasty IS the genre. 
Gina And The Eastern Block (aka GATEB) is an American band formed in Los Angeles. The band was formed by record producer Marc Jordan (Slash, The Mowgli's, The Cult, Stitched Up Heart, Bleached, Little Miss Nasty) and uniquely talented and blazingly sexy vocalist Gina Katon. GATEB's touring unit includes Creighton Emrick from Orgy and has also featured current Deftones and former Marilyn Manson bass player Fred Sablan.
The band released a mind blowing cover of Korn's epic song "Freak On A Leash" in May 2022 that features a collaboration with Little Miss Nasty and Heidi Shepherd from Butcher Babies. The song was called one of the best rock/metal releases on 2022 by LOUDWIRE.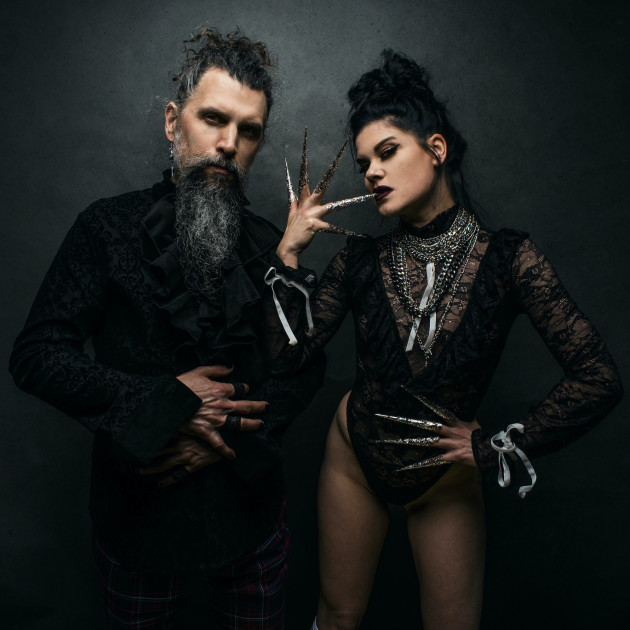 Raven Black are a theatrical metal act originally from Los Angeles. Their unique brand of metal - influence by Gothic, Classical, and Heavy Metal Music - Is the soundtrack to vocalist Raven's duality, As she shares her story of being a hybrid of both dark and light.  
The Music:  Taking from all their favorite musical influences and mixing the, with all their favorite art, movies, ethnic backgrounds, and life experiences.  Every song is created to take their fans on a journey, and adventure and come out of it with a new perspective and understanding.  Some songs are melodic, some songs are dark, some songs are fun, some songs are raging and psychotic.  But all the songs tell a story.