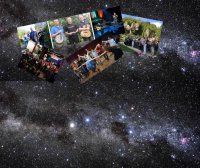 The Stonegate Singers are hosting a concert and ceilidh, and we're bringing renowned Celtic folk band The House Devils to York.
We'll kick off with The Stonegate Singers performing a set of folk songs from around the world, including music from Medieval France, Ireland, Croatia and North America, along with two new arrangements of English folk songs written specially for the night by choir director Jon Hughes.  Then we're going to have a concert and ceilidh directed by the band!
The House Devils are a three piece playing and singing Irish traditional music. Three brilliant musicians, Mat Walklate, Matt Fahey and Jonny Hulme, will get the night going with vocals, guitar, flute, harmonica, uilleann pipes and banjo. They are also a very experienced Ceilidh band, and we'll have called dances interspersed between songs and instrumental music. 

Band leader Mat Walklate is an accomplished harmonica and flute player who is as much at home playing Irish traditional music as he is the blues. (He won the British Blues Harmonica Championship when he was only twenty-one). As well as being a master of the harmonica, Mat is also a fine singer and uilleann piper. Matt Fahey is a superb singer, one of the best interpreters of traditional song on these shores and a skilled, dynamic guitar player, equally adept at accompanying vocals and instrumental music. Jonny Hulme is one of the best bluegrass banjo players this country has ever produced and he's also a dab hand at playing Irish traditional music as well. His spirited, soulful picking gives a great lift to the music.
The Stonegate Singers are a busy community choir based in York UK. Our latest performance was the Bargestra and Stonegate Singers Christmas Spectacular, December 2022. Recently We had a great night performing at the Tang Hall WMC as part of the Good Neighbours Ukraine appeal last May. The Stonegate Singers has performed live on the BBC, and as part of community events such as The Great Get Together in Rowntree Park in. In August 2017, they performed in the Creswell Crags limestone gorge as part of Refugium, a new piece by director Jon Hughes.
It should be a fun night - the venue has a bar open till 11:30, and there's plenty of space for people to chat and catch up as well as get some ceilidh dancing in if you're in the mood. 
Review of The House Devils: "..excellent vocals...harmonica playing is outstanding.." "If Irish music is your passion, you will not be disappointed.." (Neil Brookes, Shreds and Patches)