---
---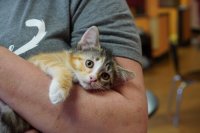 Future Veterinary Academy

Our Future Veterinary Academy is designed for youth entering 10th - 12th grade (fall of 2023) who are aspiring veterinarians and want to delve deeper into the field of veterinary science. This six session program will include topics such as managing sick and wellness appointments, running diagnostics, surgery, acupuncture and more! Participants will work hands on with our veterinarians and vet techs and learn about the overall operations of a veterinary clinic.
Session Information:

Time: 10:30-12pm
Fee: $300 per person
Program dates: (Participants attend all dates) August 1st, 3rd, 8th, 10th, 15th, 17th
Academy hours are from 10:30-12pm. We're sorry - aftercare is not available for this program. 
Questions? Email humaneed@hshv.org 

Please note: Due to space constraints, this program has a maximum of 8 attendees per session. We will plan to offer more sessions of this new program in the summer of 2024. 
Session full? Join our waitlist here: Summer Program Waitlist