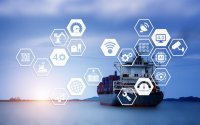 Over 600 key industry stakeholders from over 300 shipowners, operators, shipyards, and solution providers will once again be joining the event, providing the industry with the unique opportunity to outline and discuss the technologies, advancements, innovations, and efficiencies that are ongoing to support the evolution of the ships' complete design, engineering, development, operations and performance, through its complete end-end lifecycle.
Attendance is complimentary for all shipowner, operator, and shipyard employees. Please click on the blue button that reads Attendance & Registration Options to register your attendee ticket.

Shipbuilding & Lifecycle Technology 4.0 focuses on supporting shipowners, operators, and shipyards in providing knowledge and assistance on the key aspects of the evolving smart, digital, data-driven, and sustainable technologies, processes, and practices being developed, used, and implemented across the complete end-end lifecycle of the ship.
Day 1 Conference (Virtual) - Friday 26th January
Day 2 Conference (Virtual) - Friday 9th February

Conference Room 1 - Smart Solutions for the Ships Performance and Operations
Smart powered solutions and technologies can help improve a ship's performance, support operations, assist the crew, maintain safety, and detect ways to reduce costs. ​The innovation to understand and develop the space between smart tools and assistance with the workings of the ship ​is continuing ​to develop suitable technologies for what the shipping industry needs​.
Conference Room 2 - Smart Solutions for the Shipyard
Shipyards can utilise smart powered technologies to evolve their practises and process to increase efficiencies in designing, producing, and maintaining ships, as well as using these technologies to monitor & maintain their associated infrastructure. When combined correctly, these shipyards have the ability to increase their precision, productivity, and output.

Attending Companies in 2023 
90POE, A&P Group, Abdallah Alkurbi Management Consultant Office, Abeking & Rasmussen, Accelleron Industries, Action Engineering LLC, Adelaide University, AITAC, Alén Space, Alfa Laval, Alia Shipyard, Alma Shipmanagement & Trading, Alpha Marine Consulting, Alwena Shipping, AmaWaterways, Amazon, Anglo Eastern Ship Management, Anthony Veder, Arab Shipbuilding & Repair Yard (ASRY), Aras, Artemis Technologies, ASC, Associated Polymer Services (APS), AST Applied Telematics, ASTICAN, AtebTec, Austal, Austal USA, AVEVA, B15 Marine, Babcock, BAE Maritime Australia, BAE Systems Maritime Services, BAE Systems Surface Ships, Bahrain Polytechnic, Baleària, BAR Technologies, Bass Energy, BCS Automation, Befluid, Belgian Armed Forces - Naval Branch of Material Resources, Berge Bulk Maritime, Bermuda International Shipping, Bernhard Schulte Shipmanagement (BSM), Bibby Marine, BIMCO, Birdon, Blohm+Voss, BMT, Boston Consulting Group, Brodosplit, Bureau Veritas, CADMATIC, CalMac Ferries, Cammell Laird, CARELL, Cargill International, Cargill Ocean Transportation, Carnival Corporation, Carnival Maritime, Center of Maritime Technologies, Chantier Davie Canada, Chantiers de l'Atlantique, China Merchants Group, CIMAC, Climeon, Cobham Satcom, Columbia Shipmanagement, Conbulk Shipmanagement, CORE POWER (UK), Damen, Danaos, Dassault Systèmes, Defence Enterprise Solutions, Deltamarin, Department for Business, Energy & Industrial Strategy (BEIS), Desan Shipyard, DFDS, DIGIOTAI, Digital Twin for Green Shipping (DT4GS), dotOcean, DotProduct, Drone Major Group, Ellanian Shipping Services, Elliott Bay Design Group, Emarat Maritime, EPLAN, Estonian Defense Academy, Euromar Technology, Everett Ship Repair, Expleo Engineering, Ferguson Marine, Fincantieri, First Marine International, FlowStream Consult, FMV, Formica Group, Fraiserline, Frazer-Nash Consultancy, FRCon, FSG-Nobiskrug, Gaslog, GE Power Conversion, Gearbulk, Gemak Group of Companies, Genoa Design International, German Naval Yards, GICAN, GILLS, Goodwood Ship Management, Government of Canada, Graphite Innovation & Technologies, Grieg Green, Griffiths + Associates, Griffon Hoverwork, Grimaldi Group, Gullco International, Hapag-Lloyd, Harland & Wolff, Harper Petersen, HASYTEC Electronics, Hellenic Navy, Helsinki Shipyard, Hempel, Hilti, Hoegh Autoliners, Holo-Light, Hurtigruten Expeditions, Hurtigruten Group, Hypertherm, Incat Crowther, IndustriAll, INENSIA, Innovate UK, InnovMarine, International Chamber of Shipping (ICS), International Maritime Industries (IMI), INTERTANKO, Irving Shipbuilding, ISC Consulting Engineers, Italian Navy, ITI - A Wipro Company, Ivaldi Group, JP Structural Design, K Shipbuilding, Key & Co, KOTUG, Lateral Naval Architects, LD Ports & Logistics, Lloyd's Register, Lomar Shipping, LOX Container Technology, Lufthansa Industry Solutions, Maersk, Maersk Drilling, Maersk Line Fleet Management & Technology, Mærsk McKinney Møller Center for Zero Carbon Shipping, Maersk Tankers, Malin Group, Manufacturing Technology Centre (MTC), Marine Log, Marine Specialised Technology (MST) Group, Maritime UK, Maritime & Coastguard Agency (MCA), Marlink, MarRI-UK, Massterly, Maya HTT, Mediterranean Shipping Company (MSC), Mercy Ships, Meriflow Consulting, Meyer Neptun Engineering, Meyer Turku, Meyer Werft, Miros Mocean, MJM Marine, MSC Cruise Management, MSC Shipmanagement, MuirMacdonald, NAPA, Nathan Butler Consulting, National Oceanography Centre, National Shipbuilding Industries Company, Naval Architect, Naval Sea Systems Command (NAVSEA), Navis, NDAR, Nefertit Marine, Newcastle University, Newton Europe, Nigerian Maritime Administration & Safety Agency, Norgas Carriers, Northern Lighthouse Board, Novarc Technologies, NSB Niederelbe Schiffahrtsgesellschaft, NTNU, Nurbs Engineering, NVL, OCEA, Ocean Infinity, Oceanco, Oceantech Shipping & Trading, Oldendorff Carriers, OSM Maritime, P&O Maritime Logistics, Pacific Basin Shipping, Penzance Dry Dock, Petroineos, Philly Shipyard, Ponant, Precious Shipping, Prime Marine, Princess Yachts, Pritchard-Gordon Tankers, PROSTEP, QinetiQ, R. J. McGregor & Associates, RAJ&T Marine Services, Rauma Marine Constructions, Razorleaf, Real-Time Innovations (RTI), Robosys Automation, Roxtec, Royal Caribbean Group, Royal IHC, Royal National Lifeboat Institution (RNLI), Royal Navy, Saudi Aramco, Scanreach, Scillonian Marine Consultants, Scientific Management International (SMI), Seaspan Shipyards, Seaspan ULC, SeaTech Solutions, Sefine Shipyard, Shell, Shipbuilder, Siemens Digital Industries Software, Silverstream Technologies, Sirena Marine, SMT Shipping, Society of Maritime Industries (SMI), Sol&Soft Consulting, Spire Weather, SSI - ShipConstructor Software, ST Engineering Marine, Star Bulk, Star Information Systems, Stena Line, Stena Teknik, Stolt Tankers, Stolt-Nielsen, Strathclyde University, Survitec Group, Svitzer, Swire Shipping, Synergy Marine Group, Synoptix, Tandanor, Tech 4.0, Técnicas y Servicios de Ingeniería (TSI), TECO 2030, Thales, The Alan Turing Institute, The CSL Group, The Manufacturing Technology Centre (MTC), Thome Group, thyssenkrupp Marine Systems, Torvald Klaveness, TotalTek, TRX Marine, TS Queen Mary, TT-Line, TU Delft, Turkish Ministry of Transport and Infrastructure, Turkish Shipbuilders Association (GISBIR), UK Hydrographic Office, UK MoD - Defence Equipment & Support (DE&S), UK Naval Engineering, Science and Technology (NEST), Ulstein International, Ulster University, Ultra Bulk, Union Maritime, United States Navy (USN), Valmet, Van Oord, Vard Electro, Vard Marine, VesselMan, Victaulic, Viking Line, Virtalis, Wallenius Marine, Wallenius Wilhelmsen, WartenaWorks, Western Baltic Engineering, WKB Consultancy, World Maritime University (WMU), Xpedite Group of Companies, Yachtco Design Studio, Zamakona Yards, Zamil Offshore Services, Zamil Shipyard, ZXR Consulting

Shipbuilding & Lifecycle Technology 4.0 focuses on enhancing the development of smart, digital, data-driven and sustainable technologies, solutions, and processes used for the engineering, production, operational support, performance, and lifecycle management of the ship to ensure they have effective design & build processes, efficient operational procedures, sustainable end-end lifespans, and can perform their duties effectively.
VIP Attendee Ticket Option Includes

Full conference & event access provided for the entire event
Instant messaging and 1-1 video networking with any attendee
Access to the event platform for 21 days for you to use and to network with other attendees
Access to recordings of event presentations
Customisable company & attendee profiles with various multimedia content options
If you are interested in presenting in the conference or would like to view the conference programme then please email info@tech40.net with your request.