---
---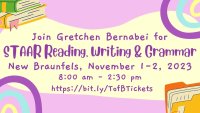 This workshop will provide up-to-the-minute information about STAAR ECRs and SCRs, with surefire strategies for classroom growth.
We'll analyze live student essays and build a bank of strategies that work with any curriculum.
Participants will receive two books and many free resources.
Dates and Times

November 1-2, 2023, 8:00 am - 2:30 pm
Location
New Braunfels Civic Convention Center
375 S. Castell Ave.
New Braunfels, TX 78310

Want to register but need to use a purchase order?
Need a quote? Download this one!
(Click "File > Download" to save to your computer.)
Email us at stacylou@sbcglobal.net or call Stacy at 817-229-0764 for assistance.