---
---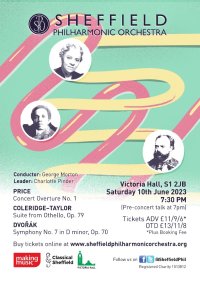 PRICE Concert Overture No. 1
COLERIDGE-TAYLOR Suite from Othello, Op. 79
DVOŘÁK Symphony No. 7, op.70, D minor


Conductor - George Morton
Leader - Charlotte Pinder

Join the Sheffield Philharmonic Orchestra for an evening of beautiful music as they close their 77th annual concert series.
The SPO will be diving back into the musical world of Florence Price with her virtuosic Concert Overture No. 1 on the spiritual "Sinner, Please Don't Let This Harvest Pass", followed by Samuel Coleridge–Taylor's delightful Othello Suite; the incidental music that he wrote for a production of Shakespeare's Othello at His Majesty's Theatre in 1912.
i. Dance
ii. Children's Intermezzo
iii. Funeral March
iv. The Willow Song
v. Military March
To close, the orchestra will perform Antonín Dvořák's Symphony No. 7.  The sunny and lyrical Seventh Symphony owes much to the influence of Brahms, but it is distinctively Czech.  As Dvorák said during its composition, 'what is in my mind is Love, God and my country.'
We will also be joined by Sheffield's award winning classical music blogger, Classicalexburns, for a short informal pre-concert talk at 7pm.