---
---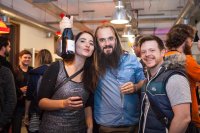 We're delighted to celebrate the end of UX Brighton's first Mentorship Programme.
Over the past 9 months, we've seen tremendous growth and development among our mentorship pairs. We're proud to have played a role in facilitating these meaningful connections and learning experiences.
Join us to raise a glass to our very first mentees and mentors. Whether you're a mentee, mentor, or considering joining our next mentorship programme 🥂
Agenda
Networking
Micro talks
Social
Micro talks
Kate Grant Senior UX and Content Consultant, cxpartners
Kate mentors Carl Smith. She will be talking about her experience of mentoring.
Carl Smith, Digital project manager, Rittman Mead
Carl is being mentored by Kate Grant. He will be speaking about his experience and achievements from being a mentee.
Sharon Webster, Senior UX Consultant, cxpartners
Sharon is Scarlet Cummin's mentor. She will be sharing her experience of mentoring.
Scarlet is being mentored by Sharon Webster. She will be talking about her experience of being a mentee.
Support
Thank you cxpartners for sponsoring UX Brighton's first mentorship programme.

We'd also like to thank Silicon Brighton, the community-led initiative supporting digital growth in the South East.