---
---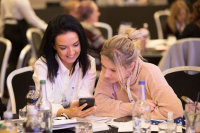 The Dravet Syndrome UK Conference for healthcare professionals will take place from 9am to 4pm on Saturday 18th November, in-person at Leonardo Royal Hotel London City, and virtually, online.
As Dravet Syndrome is such a complex condition affecting so many areas of life, we host a Parent/Carer Conference every two years, with the aim of providing parents and carers of children and adults living with Dravet Syndrome an opportunity to hear from leading professionals, to connect with other families, and to promote a sense of unity, purpose and knowledge within our community.
The conference covers the latest information about Dravet Syndrome and also provides expert guidance on the practical aspects of living with Dravet Syndrome. From learning about family rights, to discovering insights about the latest research and treatments; from asking experts your burning questions to sharing experiences with other families - our conference provides a friendly environment for furthering knowledge and understanding about living with Dravet Syndrome.