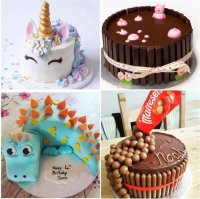 Welcome to The Bunnery Cake Decorating Course 
This course covers cake decorating from the very start up to covering and decorating cakes with Sugarpaste, if you have completed our beginners cake decorating course previously you can just skip that section if you wish.
This course will cover all of the following:
- Making from scratch all of the cakes in the photos
- How to use sugarpaste and what ones I recommend
- How to cover a cake board
- How to cover a cake
- How to colour sugarpaste
- How to use letter cutters and other tools
- How to make sugarpaste decorations
- How to add a ribbon to a cake
- How to store your cakes
- I will go through all the equipment/tools you might need or come across when decorating cakes
- All tutorials will be a mix of step by step photots and videos. I will pop on Live to the pages at different stages to answer questions along the way and will also be available to answer any messages as you follow along the tutorials.
- This course has a lot of content but you can view all the tutorials whenever suits you, as often as you want and for as long as you want (once in the group you can stay indefinitely)
This course is €49.99 per device.  This group is suitable for all ages, older children and teens would love this as well as adults
Cant wait to get started and looking forward to meeting you all,
Catriona