---
---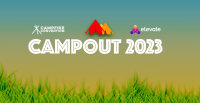 Following the great success of Campout 2022, we're delighted to announce that Campout 2023 is happening between 10-13 August at Braziers Park, a wonderful new site in the Oxfordshire countryside.
We are offering a rare opportunity to put our phones away, immerse ourselves in nature and share our ideas, skills, music, stories, food and outdoor activities. Every conversation can make a difference and this is a great chance to connect.
More than ever, we need new models for living in a radically changing world. We have a unique opportunity to build vibrant communities from the grass roots with potential to evolve our world.  This is a gathering where we bring our own creativity and unique gifts to co-create a courageous and open community space where magic can occur.

Events tickets including camping are now available, with separate car tickets and limited live-in vehicle tickets also available pre check-out.