---
---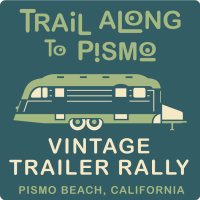 200 Vintage Trailers!
Thursday - Pickle Potluck Social
Friday- Our famous pancakes and sausage breakfast.
Saturday- Open House 10 am to 2 pm. Street party 7-9 pm.
MORE FUN PLANS TO COME!
To make your reservation select your arrival date on the first page. On the next page, you will be able to add Sunday Night if you would like to stay an extra night. All taxes and fees are included.
If we are sold out: Get on this waiting list. We will notify people on this list when sites become available. (Yes-even if you were on the original waiting list we are now working from this new list.)

This Pismo Rally is not associated with the rally at PCV in May.