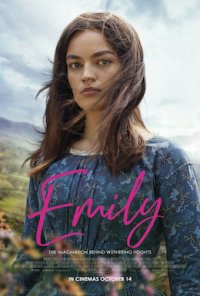 Welcome to Oakwood Cinema - the independent community cinema for Oakwood and Roundhay in Leeds!  Oakwood Cinema is a not-for-profit community cinema showing a film each month, with a licensed bar and snacks to make the night an enjoyable social event for all!
THE FILM
Our film for May is Emily (cert 15).
Emily is based upon a fascinating premise. How did Emily Bronte have the 'life experience' to write such a passionate and heartfelt novel as Wuthering Heights, given what we assume was a restricted and narrow existence with her family in a parsonage in rural Yorkshire in the early Victorian era?  Indeed, the film starts with this question - asked of a dying Emily by her sister Charlotte.  Emily is therefore an exploration of 'what might have been' - and reimagines a life of Emily Bronte that involves love, passion, betrayal and (somewhat bizarrely) narcotics.
But this is not a shallow or gimmicky retelling. Emily is full of the wonders of the Yorkshire countryside, challenging family dynamics, a realistic view of the hardships of rural isolation, loss, as well as the power of the imagination.  Above all, Emily is elevated by wonderful and believable performances by the cast, led by a mesmerising Emma Mackey in the title role who recently won the 'rising star' award at the BAFTAs - and you can see why.  Emily also marks an incredible debut feature by its writer and director Frances Ann O'Connor.

In the Guardian, Peter Bradshaw gave it a four star review: "... [O'Connor] has made a really impressive debut as a writer and director with this study of Emily Brontë, intelligently played by the Franco-British star Emma Mackey. It's beautifully acted, lovingly shot, fervently and speculatively imagined, although Mackey's portrayal, excellent as it is, may be smoother around the edges and less windblown than the real thing. This is a sensually imaginative dive into the life of the Wuthering Heights author: it is a real passion project for O'Connor, with some wonderfully arresting insights."

TICKETS

Tickets are just £5 for everyone.  (We are no longer offering memberships.)

A booking fee is applied to cover the bank processing fee for purchasing online tickets.
The main doors open at 7.00pm.  The film starts at 7.30pm. (Interval drinks are available.)