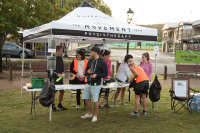 The Samford Fun Run is held each year to raise money and awareness for the Samford Support Network.
The Samford Fun Run is a fantastic family friendly community event. More than 600 participants enjoyed the walk/run last year.
So what makes our run so popular? Mostly it's the friendly, all inclusive atmosphere of the fabulous Samford and surrounds folk, coming together to exercise and support the local community. Add to that the fantastic courses the team have put together and it's an event that will no doubt keep growing.

The 10km run-only event is a very scenic and diverse route through the wonderful bushland, the streets of Samford village, and past Millen Farm. The tracks are mostly bitumen, flat gravel and short grass. The course is a good challenge for very experienced runners.
The 5km walk/run sees people who are starting out on their fitness climb, with lots of families, prams and dogs participating, and also just a lovely walk for those who are not so fit.
Money raised will go to the Samford Support Network which supports local community families who are struggling or suffering significant hardship.
If you want to donate without having to buy a ticket, You can do so by selecting the "Make a Donation" ticket, or by visiting the Samford Support Network web site and use the bank reference "SFR Donation".
Please support the local businesses listed below who are supporting the event, and remember to buy local!

Thank you for your ongoing support.
The Samford Fun Run Team and the Samford Support Network Management Committee.
Location: John Scott Park, 33 Main St, Samford Village QLD 4520
Registration: 6.00 am – 6.45 am
Race start: 7.00 am for the 10km, followed by the 5km.
Please support our major sponsors:
And also some of the local businesses supporting the event:
Choyce Electrical
PT to you
Leanne Bowman
Fix Podiatry
Born to Drive Brisbane
Nikki Boyd, MP (ALP)       

Worldwide Printing – Andrew Robertson
Ronni Greville (Craig Doyle Real Estate)
Michael Morahan
Melinda Weaver
Ampair Electrical
Samford UltraSound
Course details
5km Course and 10km course maps to follow soon!