---
Join our waiting list to be notified if any more places become available.

Done! You are on the waiting list.
---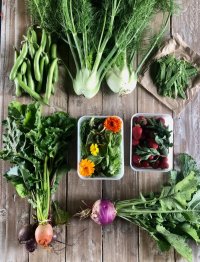 Welcome to the Farm & Feast veg box application form. Farm and Feast is our CSA (community supported agriculture) scheme. 
To apply, please click on "Join the Guestlist".

By completing this application form you are committing to buying weekly seasonal veg boxes from Laurelbank Farm, for collection from the farm, on Wednesdays from midday for the rest of the 2023 season. 
The total cost is £378. You will get 18 boxes of veg between now and December 2023, so that works out at just £21 per veg box. 
This can either be paid in one lump sum of £378 or in two installments of £189
We aren't taking payment right now - we will be in touch after we receive your application to arrange payment.

For more details, terms & conditions and frequently asked questions, see our website.