---
---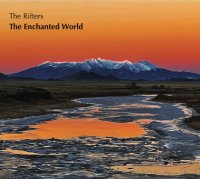 The Enchanted World, on Howlin' Dog Records is the seventh album release from the northern New Mexico based trio the Rifters. The Rifters are known across the Southwest and beyond for their "Southwestern Americana" rhythmic acoustic-based music, featuring superb musicianship and soaring harmonies, reflecting the high desert land of mountains, mesas, valleys and canyons they call home. They will be playing selections from their new album, as well as audience favorites from their previous albums and their extensive repertoire.
The album features 14 songs, 10 of which are originals or co-writes. Several of the songs in The Enchanted World are an homage to the ranching and western life, with all of its idiosyncrasies and challenges, and the glory of the landscape of the ranching west. Along the way the journey explores many issues of finding our way through our lives and our days, such as the challenges of maturity, environmental awareness and just paying the bills. Through it all runs a thread of wonder and gratitude for this amazing, enchanted world we are all so fortunate to inhabit.
The Rifters are looking forward to sending out this new album in style at Society Hall, and hope you can join them!