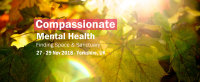 We're excited to announce our 5th Compassionate Mental Health gathering.

Finding Sanctuary & Space is taking place on Tuesday 27 to Thursday 29 November at Broughton Hall near Skipton in Yorkshire. It's an exceptional opportunity for you to explore a range of compassionate approaches for living and working with mental distress. 

Be part of a community of peers, mental health professionals, family members and policy makers, who all want to work together to restore a sense of trust, belonging and connection. Take part in conversations that matter and have a lasting impact in your life and work. 

The event is for anyone curious about compassionate approaches, including people and families with personal experience, front-line staff, commissioners, managers, clinicians, GPs, policymakers and Third Sector staff. Together we'll explore new ways of thinking about service provision, and how we care for ourselves and each other within our families, communities and workplaces. 

Join us in changing the conversation around mental health, challenging stigma and raising expectations - by moving away from labels that frame mental distress as disorders for life, and towards safe, healing mental health services that people want to use when they are in crisis. 

Hear from top speakers and facilitators about compassionate approaches, like Open Dialogue, mindfulness and voice dialogue, including:
Sarah Stone - Executive Director for Samaritans Cymru and former Deputy Commissioner for Older People in Wales - will co Chair alongside Malcolm Stern and Benna Waites. 

Register Today

Register today and join us for this unique event. 

Our three-day programme offers a rich mix of plenary sessions and workshops to exchange ideas, lessons learned and best practices - with plenty of opportunities for participation, reflection and networking.

Our November Programme will be confirmed soon – see the programme from our last event in April 2018. 

Attendance costs

There are reduced fees for those with lived experience, small charities, students and NHS staff below Band 6 and LA equivalent. Early Bird until 9 November.

Tickets includes the full three-day programme, food and refreshments and use of Avalon - Broughton Hall's brand new well being spa. 

Tickets do not include accommodation. There is limited on-site accommodation available and lots of other accommodation nearby. It's also possible to attend as a day commuter. 

We also limited bursary places people with personal experience – either of living with mental distress or supporting someone who does – who couldn't otherwise afford to come. If you know anyone who might benefit from this then please ask them to send an email to ask@compassionatementalhealth.co.uk saying why they are applying and what they hope to gain from the event. People who would most benefit are those already committed to being active partners in managing their own health. Bursary tickets are sponsored by Gofal, Safely Held Spaces and Hearing Voices Network Cymru. 

See www.compassionatementalhealth.co.uk for more information including full speaker information and online booking facilities. Our venue is Broughton Hall set in 3,000 acres of spectacular landscape on the edge of the Yorkshire Dales. 

Book Now...

See more at http://compassionatementalhealth.co.uk/
WEBSITE http://compassionatementalheal... https://www.facebook.com/compa...
TWITTER @CompassionMH https://twitter.com/
#CompassionMH

What do people say?
"Exceptional. The fact people had travelled from far and wide shows the high regard the event was held in, and also the pressing need to change and the delivery of compassionate mental health services."
"Above all people were able to release shame , guilt and silence around their stories and to find like minded community."
"Such a blessing. An oasis. I felt privileged to be a part of it. Beautifully organised, to the last detail. The professional delivery of the event was outstanding and the supporting literature of excellent quality."
"You have created a unique and invaluable contribution to the future of mental health. My daughter took her own life two years ago. I believe if either she or I had had access to the material and the diverse community you have put together, there could have been a very different outcome."

**Sponsored Tickets**
Generous support from Gofal, Hearing Voices Network Cymru and Safely Held Spaces has made it possible for us to offer a limited amount of tickets for the full 3 day conference at £120. If you have personal experience – either of living with a mental distress or caring for a family member who does – and couldn't otherwise afford to come, then please contact us saying why you'd like to apply for one of these tickets and what you hope to gain from the event. You'll then be given a code to be access the ticket. People who would most benefit are those already committed to being active partners in managing their own health.
If this amount is still out of reach, we can send you ideas about how to approach sponsors to fund your ticket. 
Cancellation refund policy:
Registrations cancelled more than 45 days before the event will be refunded 80% of the registration fees.
Registrations cancelled less than 45 but more than 30 days before the event will be refunded 50% of the registration fees.
Registrations cancelled less than 30 days before the event will not be eligible for a refund.
Compassionate Mental Heath reserves the right to cancel the event due to events outside its control (e.g. illness of a speakers). Every effort will be made to give participants as much notice as possible, although this may not always be possible in some circumstances.
Photography and filming policy:
There will be discreet photography and filming taking place during the event (but not during workshops) which we will use for public information and publicity purposes. Please let us know on the registration form if you do not consent to be filmed or photographed.