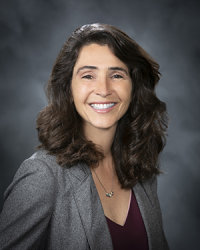 Get to know your judicial officers. This is an informal opportunity to bring your questions and talk freely with a judge about a wide variety of topics. This program is designed to give lawyers the chance to meet with judges in a more casual environment and learn things that may assist them when they are in front of the judges.

While general procedural questions can be discussed, Rules of Professional Conduct and the Judicial Canons prohibit any discussion of specific cases currently before the court. 

The Honorable Julia Alloggiamento was born and raised in San Jose, California. Judge Alloggiamento graduated cum laude from UCLA for undergrad and magna cum laude from UC Law SF (formerly called University of California, Hastings College of Law) for law school. After law school, she clerked for the Federal District Court in Los Angeles and then worked for several years at Morrison & Foerster as a litigation associate, handling a variety of cases involving financial institutions, intellectual property, class actions, real estate, and pro bono work. She served as a Deputy District Attorney in Santa Clara County from 1998 through 2010, where she prosecuted a variety of crimes, including domestic violence, narcotics, and homicide. For several years, she acted as the "Community Prosecutor" where she focused on crime prevention and intervention. In that role, she helped bring the nationally acclaimed "Parent Project" to Santa Clara County, a program which focuses on giving parents the tools to change the destructive behavior of their adolescents. She was sworn in as a Superior Court Judge in January 2011.
Judge Alloggiamento previously presided over misdemeanors, Drug Treatment Court, Juvenile Justice, Mental Health Court (hearing matters related to competency to stand trial as well as cases involving Sexually Violent Predators, Not Guilty by Reason of Insanity, and Mentally Disorder Offender civil commitment cases), and Felony Criminal trials where she heard cases involving homicide, gang cases, sexual assaults, and other serious and violent felonies. Her current assignment as of January 2023 is in a Civil Trial Department. 
Judge Alloggiamento has been Chair of the Court Community Outreach Committee since January 2012. The Outreach Committee provides outreach and education regarding a variety of issues related to the justice system and plans programs for students and adults including the Color of Justice, Young Women's Power Lunch, Educators Day, Read Across America, Law Day, and more. She also serves on numerous other court committees, including the Equality and Social Justice Committee, the Court Strategic Planning Committee, and the New Judicial Officer Bridging Committee. She also serves on Statewide Committees including the California Judges Association Wellness Committee and was appointed by the Chief Justice of the Supreme Court of California in 2022 to serve on the Judicial Council's Power of Democracy Steering Committee. In 2016, Judge Alloggiamento was recognized as the special honoree at the SCCBA Women's Lawyers' Section Annual Reception Honoring Santa Clara County Women Judges.

SCCTLA is an approved CLE provider. This event is approved for 1.0 MCLE credit.