---
---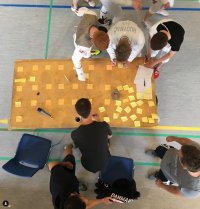 The summer camp consists mainly of fencing (foil, épée) and physical training. We also emphasize technical preparation and all fencers can therefore receive lessons from the fencing masters and take part in numerous fencing drills.
Read more about the camp on the website

Full program will be available in July and communicated directly to ticket holders.
For general information about the camp please write to summercamp@trekanten.org

PAYMENT METHODS
We accept all major credit and debit cards upon checkout. If you are not a danish resident, please choose card payment. If you are a danish resident please read below. If you are unable to pay by card, please contact us to arrange for alternative payment options and note that it might be subject to a handling fee, depending on payment method.
IMPORTANT FOR DANISH RESIDENTS  

Please select to pay by MobilePay upon checkout if you have a MobilePay account. Only use the card payment option if this is the only payment method available to you.
Complete the order as normal, but choose "MobilePay (Danish residents only)" when choosing payment options.
IF YOU ARE REGISTRERING ON BEHALF OF OTHERS
Please make sure you have the authority to accept the Terms & Conditions on behalf of the participants.