---
Buy tickets
Ticket Type
Price
Fee
Quantity
---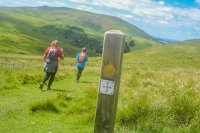 A fully way marked route bridging the national borders between Scotland and England, this  scenic 45M route starts on the historical town of Wooler  in Northumberland and finishes in the lovely Scottish Borders town of Melrose.
The route heads Westwards crossing fabulous sections of the Northumberland National Park and the beautiful Scottish Borders region. Finishing at the Border Town of Melrose, which is where Saint Cuthbert's journey is thought to have started.
Further details can be found on the race website:- https://www.trailoutlaws.com/saint-cuthbert-way-45
The race qualifies for 3 UTMB points.  All runners are given a GPS tracker, which is great for friends and family tracking you from home on or on route.

The price for entries will rise by £10 on 04/01/2019.