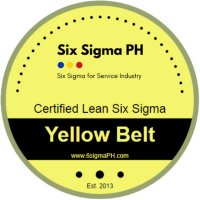 This could be your first step toward your career recovery. Be Lean Six Sigma certified by no less than Rex "The Six Sigma Guy"
Are you a...

Quality Leader in your organization who would like to revitalize your department, increase respect from other department heads, and be the "go-to" group & internal consultant when things go wrong? 

Professional who would like to boost your career, increase your compensation, get a promotion, and earn respect from your boss and peers? 

Executive/Business Owners who are tired and annoyed with spending too much time and money fixing defective products/processes? Have your products/services let you down because of poor quality?

Lean Six Sigma might be the answer.

NOT YET SURE? Read "True" testimonials from our students. You can't go wrong with Six Sigma PH: http://www.6sigmaph.com/testimonials.html


Lean Six Sigma Yellow Belt Online Certification by Rex "The Six Sigma Guy"

A program designed specifically for IT, BPO, Financial Services, Shared Services, Property, Construction, Restaurants, Hospitality, Insurance, Banks, Healthcare, Retail, Supply Chain, Logistics, SMEs, Non-Profit, etc.
e-mail: ask@6sigmaph.com

We have THE BEST Lean Six Sigma Certification Programs in the Philippines
PRACTICAL. EXPERIENTIAL. EFFECTIVE.



PHASE 1

PHASE 2

Duration

2 HRS

Days 1 & 2 (8 HRS)

Agenda

Lean Six Sigma White Belt
E-Learning
(Should be taken first before proceeding to Phase 2, Access to be given on the week of the event.)
Lean Six Sigma Yellow Belt
Virtual Instructor-Led

Goals

Lean Six Sigma Foundation and DMAIC Methodology.

Introduction to the tools and their function.

Participants answer a short assessment to check their understanding.

Awarding White Belt is a prerequisite to advancing to the next phase.
Debriefing and Q&A (Knowledge Check).

Lean Six Sigma Yellow Belt: Game-Simulation- Experiential Learning Methodology.

Preparing for change.

Equip & empower Project Managers to think in terms of process & initiate improvements.

Learn and be confident in facilitating DMAIC methodology and Six Sigma tools.
April 21 & 22, 2023 | Friday & Saturday | Wave 129

2HRS E-Learning program w/ access to be given upon confirming receipt of the learning fees.
1:00 PM - 5:00 PM over Zoom Meeting
Learning Investment Fees:

EARLY WORM RATE 

If paid two weeks before the event
₱9,500.00* (+ minimal Ticket Tailor fees IF paid online)
REGULAR RATE
If paid a week before the event
₱12,000.00* (+ minimal Ticket Tailor fees IF paid online)

*All rates +12% VAT if applicable.
Important Things:


-We require using a desktop computer or laptop for easier navigation during online group activities.
-Please install Zoom and Miro apps on your Desktop or Laptop to avoid browser-related issues. Please register to the said apps to prepare for the activities.
-Mobile and/or Tablet devices are not compatible with the tools that we are going to use during the sessions.
-You will need to attend the full-day session and achieve the goal per activities to be certified.
-Please make sure you are in a quiet room free from distractions. Treat this as a serious learning opportunity, and make sure you get the most out of the experience.
GENERAL PRIVACY NOTICE FOR EVENTS

1. Screenshots and video recordings of the event may be done by the event organizer.

2. Photos may be used for print publications. Photos and videos may be posted on various online platforms, including the official Six Sigma PH website and social media controlled by the organization.

3. Some events may include media coverage that may translate to story releases online, in print, or on traditional broadcast channels.

4. Information collected via registration or media capture may be kept for archival purposes.

For any privacy-related concerns, you may contact us via email at ask@6sigmaph.com
OTHER PAYMENT OPTIONS (Bank, Gcash, Maya, PayPal, Credit/Debit Card)
​✅ IF to be paid in Cash or Check via Bank Deposit or Online Transfer:
STEP 2: Please deposit the learning fees to the account below (at the bank or online transfer), and send a photo of the deposit slip or online transaction receipt to ask@6sigmaPH.com. Most of the time, it would take us 24 hours to confirm your payment.

Bank: BDO
Account Name: Highclere - Six Sigma Consulting Inc.
Account Number: 006830126664

Bank: PNB
Account Name: Highclere - Six Sigma Consulting Inc.
Account Number: 1438-7000-5770

Bank: Metrobank
Account Number: 641-3-641-11842-8

eMoney: Gcash
Gcash Number: 0917-100-4004
(This number does not accept calls. To contact us, please use: +632-7980-5111 / +63917-190-4511/ +632-7980-6690 / +63917-190-4669

eMoney: Maya
Maya Number: 0928-507-5744
​(This number does not accept calls. To contact us, please use: +632-7980-5111 / +63917-190-4511/ +632-7980-6690 / +63917-190-4669
​Bank: BPI
Account Number: 036-912-7616


We'll see you in class soon :)
--

Six Sigma PH "𝘉𝘦 𝘵𝘳𝘦𝘢𝘵𝘦𝘥 𝘉𝘌𝘚𝘛 𝘣𝘺 𝘺𝘰𝘶𝘳 𝘣𝘰𝘴𝘴 & 𝘱𝘦𝘦𝘳𝘴!"
www.6sigmaPH.com ask@6sigmaPH.com
One Pacific Place, HV Dela Costa Street, Salcedo Village, Makati City, PHILIPPINES
Public Training: ☎+632-7980-5111📱+63917-190-4511
Corporate / In-House: ☎+632-7980-6690📱+63917-190-4669