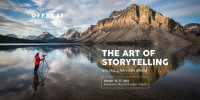 They say a photograph is worth a thousand words. So, what stories are your images telling? This event is geared towards all photographers who seek to create not just pretty pictures, but also a way to deliver a story in an impactful manner. Over three intense days, blending field time and classroom time, OFFBEAT co-founders Dave Brosha and Paul Zizka will guide you as you strive to take your photography to the next level. This unique workshop will provide you with an intimate creative experience in an inspiring, retreat-like setting to help you improve your storytelling abilities.

Surrounded by the stunning mountain ranges of the Kananaskis area, we will explore topics such as: 
shooting with purpose

developing a body of work that is memorable and that exudes passion

self-critiquing

vision to execution

sticking to a theme

presenting a photo essay 

and the paths to meaningful photography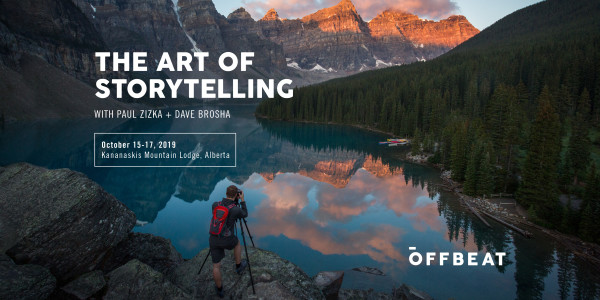 Itinerary:
The event will run from 3PM on October 15, 2019, through to approximately 2PM on October 17, 2019.  A detailed itinerary will be released to participants well in advance of arrival.
Price/Payment Schedule:
Cost: CAD $2450+GST
Payment options: Full payment or $750+GST non-refundable deposit to secure a space with balance due June 30, 2019.
The Setting:
Nestled in the heart of Alberta's beautiful Kananaskis Country, the newly-renovated Pomeroy Kananaskis Mountain Lodge is located just 1 hour from Calgary, and provides a relaxed, retreat-like setting amidst a stunning mountain environment.
The lodge also features a brand new, 50,000 square foot Nordic Spa. You may like to extend your stay to take full advantage of the amenities and activities in the region.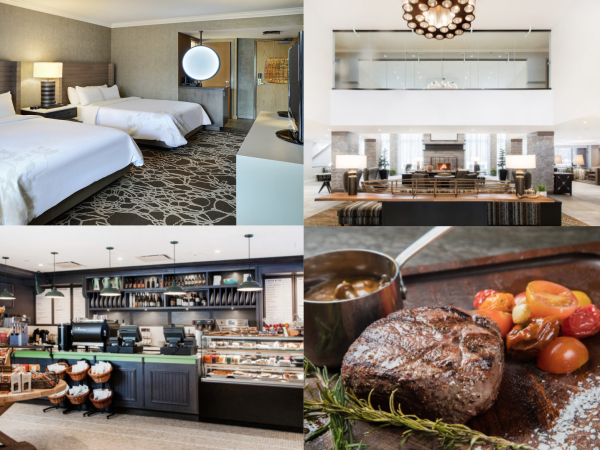 The Finer Details:
Registration fees include:
one-on-one and group instruction with OFFBEAT co-founders Dave Brosha and Paul Zizka

single, luxury accommodation at the newly-renovated Pomeroy Kananaskis Mountain Lodge

all meals beginning with a savoury dinner on October 15 and ending at breakfast on October 17
Not included in registration fees: 
About Dave Brosha
"Critically acclaimed....spectacular photos." - The Globe and Mail
Holding a passion for the world and an eye for the beauty it contains, northern commercial, personal, and landscape photographer Dave Brosha is on a continual journey to seek out and capture the beauty of this world – whether it's the beauty of some of most extreme and pristine environments in the world, or the beauty of some of a person's most personal moments. In addition to living throughout northern Canada for much of his life, Dave – along with his wife and children – have also lived in Asia and have traveled extensively through both the many provinces and territories of their native country and numerous countries abroad.
Dave's personal affiliations and representations include the First Light agency, Aurora Images, Offset, Getty Images (stock), National Geographic (stock), and the Canadian Press, for which Dave is a freelance photographer. 
About Paul Zizka
Specializing in photographing in difficult conditions and hard-to-reach places, Paul has a passion for shooting alpine sports and backcountry experiences, capturing the spirit of adventurers and finding unusual angles of common mountain subjects. As a landscape photographer, he particularly enjoys the challenge of capturing nature's beauty at night and the unique features that come with a dark sky – stars, Northern Lights and dramatic silhouettes.
Paul's award-winning photos have been featured in a variety of publications, including IMPACT, Alpinist, Canadian Geographic, Islands, PhotoLife, Fodors.com and explore magazine. In addition to his work for a number of clients, over the past few years Paul has created a signature collection of images for Banff Lake Louise Tourism, which are used to promote Banff National Park throughout the world.
In the Canadian Rockies, Paul has hiked extensively in the backcountry and photographed from the summits of countless peaks. His adventures abroad include a 1400-km unsupported double-crossing of Iceland on foot (2004), which is believed to be the first of its kind, and a 1488-km solo crossing of the South Island of New Zealand (2007). Recent travels have taken him backpacking in the Caribbean, exploring tiny insular nations of the Pacific, trekking in remote corners of Scandinavia and Nepal, and ski touring on Baffin Island.
Cancellation and Insurance Policy

CANCELLATION: Spots are non-refundable but are transferable, with the exception of a $250 administration fee. For instance, we will provide a refund, minus the administration fee, if the participant is able to find someone else to take his or her spot and can sell/transfer the spot to a new participant. Please contact us at erin@offbeatphoto.ca to make arrangements.
Although extremely unlikely, OFFBEAT Photography Inc. reserves the right to cancel the tour at any time for a variety of reasons (i.e. if a minimum number of participants is not met or if unforeseen circumstances dramatically impacted cost of the tour or global conditions somehow warranted a cancellation). In the very unlikely event of a cancellation, all monies/deposits made to OFFBEAT Photography Inc. would be refunded to participants, however, no compensation would be made for participant flight cancellation fees or any other associated travel costs. See Insurance Policy for more details.
INSURANCE: It is not only advised but required that workshop participants have trip cancellation/interruption insurance, as well as emergency medical/illness insurance and rescue coverage (proof required within 4 months of departure).
Weather and other unforeseen factors can cause delays in travel, particularly from some of our more remote locations. It is the participant's responsibility to cover any costs in the case of a travel delay of any length. Please ensure your trip cancellation/interruption insurance accommodates this possibility.
By purchasing a spot you are acknowledging that you accept these conditions.

For any additional questions, please contact us at workshops@offbeatphoto.ca