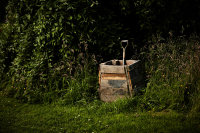 Volunteering at Laurelbank Farm. 
If you want to read about why we think volunteering here a Laurelbank Farm is awesome, have a read of this. 
For those of you who don't click - it's about learning and feasting and touching the soil and getting outside and meeting lovely people! It's also about allowing us to grow food in the best possible way. As we scale up our growing, we increasingly rely on our volunteers to make the way we farm possible. 

Click on "Join the Guestlist" to view which sessions are available and to book your slot. (We would be delighted if you became a regular volunteer, so please do feel free to book multiple slots - just let us know if you have to cancel at any point).

There are two types of volunteering sessions:
Meitheal mornings - These run from 10am to 1pm (on various different days of the week) and we will be planting, weeding, making, mulching, painting, turning compost - anything and everything that need to be done throughout the season. 
We will be making a simple lunch at 1pm on volunteer days and we would be delighted if you wanted to stay and eat with us. In an attempt to make our little organic farm add up, from the start of 2023 we're suggesting an (entirely optional) donation of £5 for lunch. This helps cover the costs of ingredients and a member of the team to make the lunch. Please don't let this put you off. The £5 payment is entirely optional, no questions asked.

Harvest mornings - Definitely for "morning people". We start early, to make sure we pick our vegetables at their peak freshness. These sessions are always on a Wednesday mornings and will run from May right through to December this year. After we finish harvesting the produce for the week (if we harvest quickly, we'll finish sooner) we will all sit around the firepit, cook soda farls and enjoy a simple breakfast together. 

Please bring sensible shoes and gardening gloves (if you have them - don't worry if you don't - we have spares) and clothes to keep you warm and/or protected from the sun and/or rain. A change of shoes is an excellent idea - you can get out of your muddy boots for lunch/soda farls! 

And just one more thing... Please note: These sessions are for adults only.