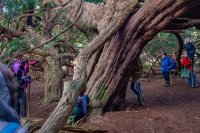 Guided by BPT's historian and naturalist Dawn Champion, pilgrims will experience a journey deeply rooted in nature and wildlife, from the enigmatic Ancient Watcher yew trees of Kingley Vale to the magnificent Chichester Cathedral.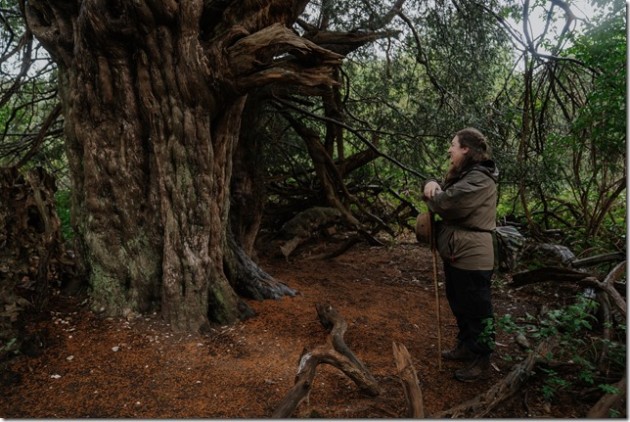 We will meet at St Mary's Stoughton, before ascending the wildflower-strewn path to the top of Kingley Vale with its Bronze Age tumuli. From the breathtaking views of the South Downs and the English Channel, we wander down through the yew grove called the 'Ancient Watchers' and onto West Stoke Church. From here we will walk on to explore Brandy Hole Copse and then follow the Centurion Way. We will arrive at Chichester Cathedral for Evensong a counterpoint to the birdsong experienced throughout the day.
The first part of the day will be on footpaths and bridleways in the heart of the South Downs. From West Stoke there will be some walking on roads before joining paths into Chichester. 
A wild and sensory approach to the ancient practice of pilgrimage. Read more about the experience when writer Oliver Smith joined Dawn last year
Bring Your Own Beliefs
This Pilgrimage will include:
- New ways of meeting old pilgrim places 
- ancient and holy places of all kinds
- a sensory exploration of place
- Songs, stories and folklore
- Occasional stretches of silence
- Occasional barefoot walking
- Rediscovering your place in the British pilgrimage tradition
- Natural beauty and the wild places between the roads
What to bring
Appropriate clothes and footwear; Waterproofs or Umbrella; Picnic Lunch, Waterbottle or thermos flask.
FAQ's
Travel arrangements - nearest train station to Stoughton is Rowlands Castle, we can arrange taxi/lift shares from there if you let us know at point of booking. At the end of the pilgrimage, those who parked their car at the start can share a taxi back to Stoughton from Chichester.
Who can come? Anyone over 18 (or under 18 with parental guidance, bearing in mind the walking distance).
Is this religious? . This is a faith-neutral pilgrimage including a variety of traditions and practices. We operate a "Bring Your Own Beliefs" policy, where pilgrims can choose when to engage and participate. We ask that all pilgrims respect one another, whatever their beliefs.
Are there fitness limitations? Pilgrimage is moderately intense and there are some steep hills. If you struggle to walk all day, this type of pilgrimage may be an unsuitable activity for you right now. But we will walk slowly, and start early, and 8 miles is a manageable distance for the majority of people. Unfortunately this pilgrimage is not suited for mobility-impaired people or those requiring wheelchair access due to the terrain. 
Can I bring my dog? Sadly not - we can't accommodate dogs on our guided pilgrimages. However, if you have a registered assistance dog, they are welcome.
Do you offer concessions? We offer some free or discounted places to pilgrims on certain types of income-related Universal Credit, PIP, DLA ESA , JSA etc. Contact us to find out if you qualify.
What does my money go? What's this all for? It's a fundraiser for registered charity British Pilgrimage Trust, which has limited resources, but which largely spends its time creating materials for people to use for free, and facilitating the grass roots growth of pilgrimage in Britain by engaging with local communities. For more details about our charitable activities, please check here.
If you would like to make a donation in addition to, or in place of, a ticket, click here.
This is a British Pilgrimage Trust event that follows a 1-day stage of the Old Way to Canterbury, and we make pilgrimages that encounter Britain in new (and very old) ways.
We hope to see you on the path.
Photos: Beth Squire