---
---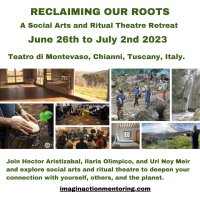 Ritual Theatre & Work that Reconnects
with Hector Aristizabal (Re-conectando)
Teatro di Montevaso, Chianni, Tuscany, Italy.

Hector Aristizabal returns to Europe after six years, to share his work in the Peace process in Colombia with Re-Conectando supporting the mandate of the Truth Commission, with Truth Reconciliation Laboratories in the womb of Mother Earth. See more about this work at: https://www.reconectando.org
The retreat is hosted and organized by social arts facilitators Ilaria Olimpico and Uri Noy Meir.
You are invited to:
Connect to the wisdom of nature
Activate your embodied knowing
Become more aware of your personal and collective trauma
Design and experience healing rituals for collective healing
Join and cultivate a network of social arts facilitators
The Program Costs are as follows:
390 Euros (Supported)
480 Euros (Suggested)
780 Euros (Supporter)
These do not include the cost of accommodation and board.
Pay now a 150 Euros booking fee, and the rest on arrival.
The fee does not include accommodation and board (with all meals from the lunch of the 27th till the breakfast of the 30th), which is 228 per person in a double or triple room or 273 euros per person in a single room. It is possible to come early or leave a day later and pay an extra 25 euros per night (no meals provided for the additional days).

To reach the location, you may drive, take a taxi, or take a bus From Cecina to Castellina Marittima or from Pontedera to Chianni. We will arrange for your transportation from there.
After registering, we kindly request that you complete a form to help us match you with other travelers and ensure smooth arrivals and departures. You can access the form at https://forms.gle/3sV7Zwu4YLkMJ3jYA
If you have any special dietary requests or questions, don't hesitate to contact Uri at urinoymeir@gmail.com or +39 3342834302.