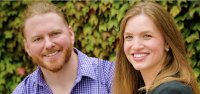 Bass-baritone Daniel Brevik and mezzo-soprano Jennifer Fijal-Brevik will present a winter-themed concert with classical and holiday music, accompanied by Ania Bostock on piano. Gilbertville audiences enjoyed these talented singers and their special chemistry on stage in 2019. Their re-appearance has been long awaited.

Daniel Brevik, an American bass-baritone and social influencer, is praised for having a "massive, focused, rich warm timbre." Boasting an impressive fan base of over 60,000 monthly listeners on Spotify and 1.2 million folowers across Instagram, YouTube and TikTok platforms. In a recent collaboration with Bobby Bass, their cover of Hans Zimmer's "Hoist the Colours" garnered over 7 million streams and 5,8 million views. Brevik was shocased on stage in concert with Pantatoinx legend Avi Kaplan. He was selected by Ricky Ian Gordon for a lead role as Ernest Hemingway in Gordon's opera "27," which earned him a cover spot on Opera News, and rave reviews for his acting and singing talent.

Jennifer Fijal-Brevik, a student of FOSC founder Don Boothman, is a multi-talented musician who received her Master of Music degree from New England Conservatory in voice and opera. She is currently Music and Arts Director at First Presbyterian Church in Hartford and Director of Education at Falcetti School of Music in Springfield, where she teaches voice and piano.
Ania Bostock received her Bachelor's in Music Performance and her Maser's in Collaborative Piano at the University of Massachusetts/Amherst. She won the New England Piano Championship in 2001 and started teaching music at age 16. She is Music Director at Our Saviour's Lutheran Church in South Hadley, MA.
Highlights of the Program

Must the Winter Come So Soon, Samuel Barber - Jennifer Fijal - Brevik

Aleko's Cavatina, Sergei Rachmaninoff - Daniel Brevik
Once Upon a December from Anastasia - Jennifer Fijal-Brevik

Evermore from Beauty and the Beast- Daniel Brevik
Followed by musical theater songs and Holiday songs to celebrate the season, from the Breviks and from Friends of the Stone Church, Inc.