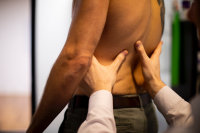 Do your patients suffer from chronic pain?
In Australia, it is estimated that around 1 in 5 adults report current chronic pain. Neuropathic pain in particular can be difficult to treat. It has been reported that patients with neuropathic pain have a tendency to suffer and function more poorly when compared to those with chronic nociceptive pain. Neuropathic pain is also associated with impaired quality of life and is often poorly managed. Neuropathic pain management outcomes often are unsatisfactory, partly because the contribution of neuropathy to pain presenting in primary care may be unrecognised.

Learn to recognize and effectively treat mixed pain presentations in this 3-hour seminar from physicians from Melbourne's  Metro Pain Group and  Sydney's Women's Health and Research Institute of Australia, leaders in pain management. Understand the latest conservative and interventional treatment strategies, and the referral processes to give your patients the best chance of recovery.

Learning Outcomes
• Assessing a patient with chronic pain to establish if they have any red flag conditions
• Outlining the differential diagnosis of chronic neuropathic and nociceptive pain
• Evaluating a number of conservative and interventional strategies to manage chronic pain
• Implementing a referral process for patients with ongoing pain that require additional investigation and referral to a pain clinic.
Course Details
The Changing the Way We Think About Pain event is applicable to Allied Health practitioners with an interest in a deeper understanding of pain. It will include presentations followed by a Q&A session.

The course will run from 9AM to 12PM. Places are limited to 25 attendees. The course can be counted as 3 hours CPD and will include an e-certificate of attendance for your CPD records.

Agenda
Dr Bruce Mitchell
MBBS FACSM FACSP FASMF MPainMed FIPP
Sports & Interventional Pain Physician

Dr Bruce Mitchell is a Sports and Interventional Pain Physician and a Director of Metro Pain Group.
He has an extensive sports medicine background, previously working as an AFL club doctor and was the former National President of Sports Medicine Australia. He is a Fellow of the American College of Sports Medicine, and has completed a Masters of Pain Medicine and the International Fellowship of Interventional Pain Practice. He has a special interest in the management of hip, back, pelvic and pelvic girdle pain.

Find further information about Dr Mitchell here.

Prof Thierry Vancaillie
MD,FRANZCOG,FFPMANZCA
Clinical Professor of Gynaecology, UNSW
VMO, Royal Hospital for Women
Gynaecologist & Pain Medicine Specialist
Professor Thierry Vancaillie is a gynaecologist and pain specialist, renowned for his role in developing minimally invasive procedures, including hysteroscopic and laparoscopic surgery. His expertise also includes endometriosis treatment and incontinence. Notably, his work with the physics and application of electrosurgery in surgical approaches has set benchmarks for international standards. He is a founding director of the Women's Health and Research Institute of Australia (WHRIA).
Find further information about Prof Vancaillie here.