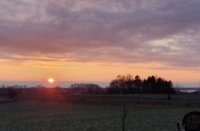 You are invited to retreat into meditation and asana practice, stillness and movement on the beautiful and peaceful island of Møn, as we immerse from late summer into early fall.
Fullness, Purna in Sanskrit, is inherent to life. Summer is the full expression of nature, where nature gives us the best she can offer: daylight, sunshine, fruits, flowers and heat… Summer is a time of full potential also for most of us, as we get invited to our fuller expression.
Yet nature also knows how to honor that where fullness comes from; emptiness itself. Emptiness, Shunya as yogis would call it, is an endless void that not only is completely unfilled but also contains an infinite pool of possibilities, where literally everything - every thought, creation, movement, ... and life itself - can be born.
Contemplating how the feeling of abundance must arise from an acceptance of the present moment itself, we explore and practice together on the meaning of fullness and emptiness. How the two intertwine together and reflect back on each other. How emptiness - or in other words, a detachment from a constant longing towards something outside ourselves - can guide us into a state of completion and fullness.
Concretely, this retreat will offer you a combination of strong dynamic practice to ignite fire and warmth and a softer restorative practice to invite a full release of body and mind. Besides the asana practice, you will be guided into meditation and inward contemplation and provided with time to connect to the peaceful natural surroundings and to simply be.
This is an invitation to reset and rebalance your body, heart, and mind, and enter fall and winter ready to make the most of the upcoming "Shunya time" of the year.
Price
(Price is Per person)
Shared double room: 5100 dkk

Single room: 6100 dkk
Scholarships: 3800 dkk (shared double room)
There are 2 scholarships available, first ones first. You will be expected to help out with smaller tasks, helping out in the kitchen, making tea and arranging fruits in the morning and such.
Deposit: 2000 dkk
The deposit payment is non-refundable. The rest of the retreat price is due at the latest 30 days before the retreat starts. In the unfortunate case of cancellation on the participant's end (aka you) after full price is paid, we cannot provide a refund but the participant is welcome to sell/pass on their reservation to someone else. Contact Cédric or Cecilie in case there is a waiting list.
Booking and registration
Your spot is reserved when either depositum or full amount has been paid.
This can be done either by:
Bank transfer
From Denmark: Reg. nr: 3409, Account nr: 12479026
International: BIC/SWIFT: DABADKKK , IBAN: 3330000012479026.
Or
Direct payment on this platform  (small fee). 
Click the "SIGN UP" button on the right hand side.
At the same time, send us an email to ceciliesofiesvensson@gmail.com or cedric@heartwiseyoga.com if any questions regarding payment or in general arises. 
We look forward to sharing this experience together! 
Much warmth, 
Cecilie & Cédric
Cédric: heartwiseyoga.com/retreats
Cecilie: ceciliesofiesvensson.dk/events