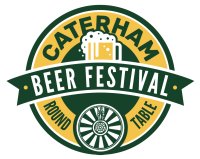 THIS TICKET IS FOR SATURDAY DAYTIME ONLY - 1pm until 6pm.
For Saturday evening and to see the band, please purchase saturday evening tickets.

Beer lovers of Surrey. Grab your glasses and get ready to experience the 2023 Caterham Beer Festival. 
Join the Caterham Round Tablers, our sponsors and supporters at the 10th Annual Caterham Beer Festival, with 60+ beers, ales, lagers and ciders, a wine and spirits bar, live music on the Saturday evening, and delicious hot food available to purchase throughout the event. Caterham Beer Festival is not one to miss!

Caterham Beer Festival truly is a community event. All proceeds will go to local charities and good causes. The beer festival has helped to raise over £115,000 since it first started in 2013.

Tickets are exclusively available online this year! Remaining tickets may be available at the gate subject to capacity restrictions but we encourage you to buy advance tickets.
What to expect at the Caterham Beer Festival
Fully staffed by volunteers of Caterham Round Table
Over 1400 attendees in 2022!
All money raised goes to local charities - we've raised and donated over £115k to date!
Hot food
Award winning beers, craft ales and ciders.
See Saturday evening tickets to enjoy Live music from The Happy Jacks!
Please note, these tickets are for Saturday Daytime Only, we will close between 6pm and 7pm to set up for the evening session and music performance. Separate tickets are available for the Saturday evening session. 
If you are interested in volunteering at this event or finding out more about Caterham Round Table please contact us via our Facebook page or e-mail caterhamroundtable@gmail.com
*We have a range of sponsorship opportunities for the Festival all including free weekend tickets. Contact us via our Facebook Page or via caterhamroundtable@gmail.com, see http://caterhambeerfestival.com/sponsors/ for more information.